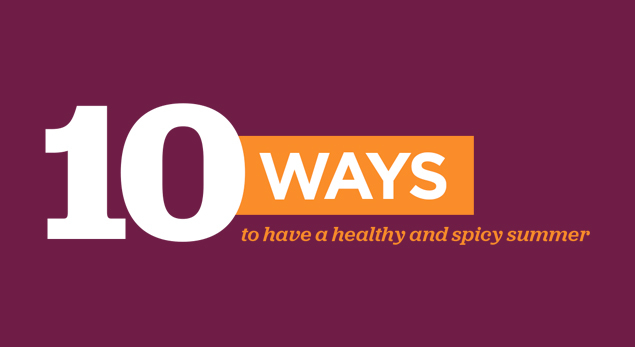 We're here to tell you that summer 2021 is in full-swing. And after the summer that wasn't, due to COVID-19, this year is looking to be the season of feeling good, having fun and keeping things spicy. We compiled a list of tips for a sex-positive summer.
10. Get Vaxxed
Are you ready to start hugging your friends again? Getting a COVID-19 vaccination is the best way you can protect yourself and your community. Vaccinations greatly reduce your risk of getting COVID-19. Vaccinations are now available at many locations. Visit the CDC's vaccination location finder to schedule an appointment.
9. Get Tested
One of the best ways to manage your sexual health is to get tested. Getting tested for STIs is quick, easy and gives you peace of mind when you're out on long summer nights. Who knows what could happen? Keep yourself and your partners healthy by visiting Evergreen Health, Community Access Services or The Pride Center of WNY for your STI test!
8. Get PrEP-ed
PrEP is great for people who don't use condoms all the time and it's a sure way to prevent HIV. Evergreen can hook you up with PrEP so you can hook up with less anxiety!
7. U=U
Undetectable equals Untransmittable, baby! That's right, if you are living with HIV, achieving and maintaining an undetectable status means that you cannot transmit HIV to another person. At Evergreen Health, we work with our patients to develop treatment programs that fit your lifestyle. Click here to learn more about HIV care at Evergreen.
6. Condoms
We love condoms, and we have them available to anyone who wants them, for free! Stop by and ask our staff at the front desk for some condoms and they'll hook you up so you can have a wild and sexy summer.
5. Pharmacy
Do you want to make your life even easier? Get your prescriptions from the Pharmacy at Evergreen! Our full-service pharmacy is open to the community and our friendly team is ready to assist you. We also offer free delivery to all eight counties of Western New York. Talk about making things easy! Our pharmacists also have great relationships with our Primary and Specialty Care providers, which benefits you!
You don't have to be a patient of Evergreen to use the Pharmacy, so if you want to receive the service you deserve, then click here!
4. Access to Clean Needles and Works
We love people who use drugs. Seriously. We've been advocating for drug user health for years and we take a harm reduction approach to care. That means you determine your own health goals. Our Syringe Exchange Program is one way we make sure drug users have access to the services and support they need. We don't judge and everyone is welcome!
3. Get Support
Evergreen offers support to people experiencing mental health issues like depression and anxiety. This "return to normal" is anything but easy. Check out this list of 99 Coping Skills to help you avoid damaging thought patterns.
2. Meet our Affiliates
Did you know that Evergreen has affiliate organizations focused on the health of people underserved by the healthcare system ? Let us introduce you!
The Pride Center of WNY works with the community-at-large to make WNY a safe, healthy and satisfying place for LGBTQ people to live, work and establish their families. Community Access Services is committed to ending the epidemic of HIV among communities of color . Additionally, they provide access to primary care, mental health counseling, substance use counseling and more.
1. One Step at a Time
Whether you are slowly adopting the new norm or back out in full social swing, we encourage you to take the steps necessary to prioritize your health. And remember, no matter who or what you are into, Evergreen Health is here to provide you with non-judgmental healthcare on your terms.