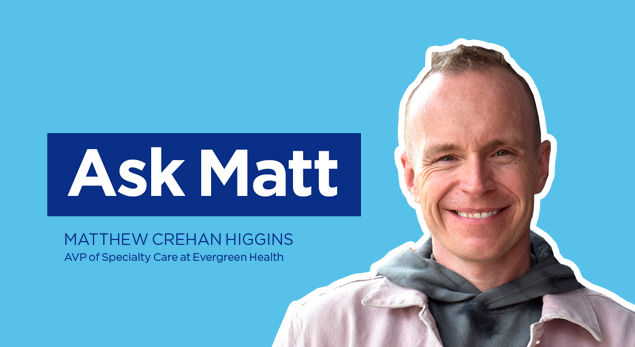 Evergreen Health is, and always has been, proud to be a place where individuals can get tested for sexually transmitted infections without fear of judgment. At Evergreen Health, we never assume anything about sexual or gender identity. We believe that patients should never have to be anyone but themselves in order to be respected and cared for. Our values are rooted in harm reduction, meaning you make the decisions that impact your sexual healthcare for yourself and they may be different than the next person. Harm reduction is about lessening unwanted reactions that happen in response to normal human behaviors and can be used for eating, drinking and just about anything humans do. In this case, we are looking at harm reduction in relation to sex.
We talk about sex every day at Evergreen, not just during April when it's STI Awareness Month; however, we believe that in talking more about STIs, including HIV, stigma will lessen. Matthew Crehan Higgins is the AVP of Specialty Care and he primarily oversees our specialty suite of services, including HIV, STI and hepatitis C treatment, prevention. and care and gender-affirming care. He also helps shape the conversation around STIs to reduce stigma by letting people know that they have options around their sexual health and that we want to hear about the lives they're living as they're actually living them. Matt was raised in a time when talk of HIV and STIs was accusatory and especially harmful to the LGBTQ+ population.
"I think about the sexual health messages many of us grew up with. It was all very much about fatality, blame and a notion that people were dangerous. This was in the same way that they like to say the war on drugs was never really a war on drugs, it was a war on drug-using people," said Matt.

"Similarly, the sexual health messaging wasn't a war against viruses, conditions or bacteria," continued Matt. "It became a fight with this notion that certain people were dangerous. So, when we teach new employees, we show them these older images and the images are negative. They show cemeteries. They have very accusatory language and make unfair assumptions."
Evergreen's goal is to work to negate that messaging because shame and blame do not have a positive effect on the livelihood of people. Instead, it marginalizes groups and scares many individuals from receiving life-enhancing services. Everyone deserves to live a healthy life and this messaging has made it difficult for individuals to claim that right. That's why fighting stigma is so important to us.
Stigma related to sex work and gender-expansive individuals is a concern for Evergreen. Often these individuals are not embraced for who they are and as a result, their care suffers. It's important to us that every individual feels comfortable receiving care and never feels judged for how they lead their lives. Evergreen is working to increase PrEP accessibility, especially for sex workers, women and transgender individuals.
We educate patients on ways that they can lessen exposure to STIs and we provide access to free condoms, dental dams and internal condoms. Not only that, but the Evergreen Pharmacy, we offer PrEP, a daily pill that prevents patients from developing HIV. One of the most effective ways that Evergreen makes a difference, according to Matt, is by testing our patients. Testing and treating an individual is a stopping point for viral spread. By providing easy, walk-in or by-appointment STI testing, Evergreen is addressing spread that may otherwise go on for months or years.
Post-Exposure Prophylaxis, also known as PEP, is a medication that prevents HIV infection and can be prescribed to patients who have had a known unprotected sexual encounter with a person living with HIV within the past 36 hours. Evergreen's PEP Hotline is 716.847.0675 and will connect patients with one of our STI nurses. For after hours care, we advise going to your local emergency room or urgent care immediately and ask for PEP.
According to Matt, the vast majority of STIs are curable and all have treatment options. Evergreen's testing is quick and easy, with walk-in and by-appointment testing in Buffalo and Jamestown. Patients can always count on our team to be non-judgmental, affirming, educational and understanding. To learn more, visit our website at evergreenhs.org or give us a call at 716.847.2441.