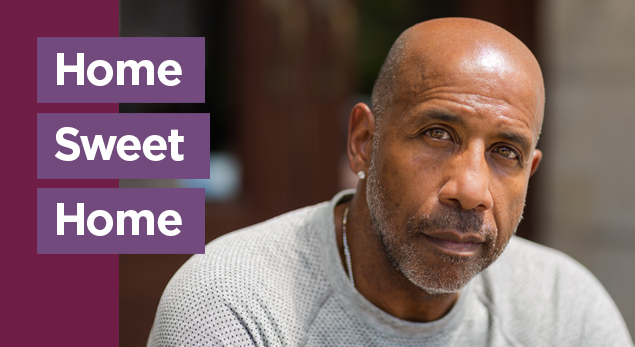 A safe and stable place to call home is one of life's most basic needs, but for many Evergreen patients this need goes unmet. For people living with HIV or other chronic illnesses, secure housing is about more than comfort. Secure housing is essential to getting and staying healthy. Without a home, it's difficult to keep up with medical appointments or a treatment regiment, and nearly impossible to obtain nutrition assistance benefits.
Carlos is an Evergreen Health housing success story. Carlos had previously met the definition of chronically homeless, which means he spent a total of one year living on the streets over a period of three years. Carlos was using drugs and his health was in rapid decline. He applied for an apartment in the Evergreen Lofts and his entire life changed, along with his address.
"When I first opened the door, I was so overwhelmed that I shut the door and slept on the street for three more days," Carlos recalled. "I didn't think this could be mine. It looks like a place where rich people live. But my cousin talked me into coming back, and told me this is for real; this is my home. I love it here."
Once he had a home, Carlos was able to make real changes in his life. He reduced his drug use, attended medical appointments and stayed current with his medications. His health has improved dramatically. Now Carlos enjoys cooking for his friends and neighbors at the Evergreen Lofts. He knows "There's no place like home."
Help make a difference for others like Carlos
Carlos' story is one of many. We know that the ability for patients to take care of their health relies on meeting their most basic needs. That is why our dedicated staff will assist patients with housing, nutrition and transportation. In conjunction with meeting a patient's needs, our care coordination team is able to link individuals with medical and behavioral services, insurance and social services. We believe in being judgment-free and treating our patients with compassion to help them at every step of their healthcare journey.
Help us make a difference for others like Carlos. Your gift ensures that the most vulnerable individuals have a place to call home. Each gift is a contribution that will be used to meet the needs of our patients.
Without you, this work would be impossible. Click here to make your donation