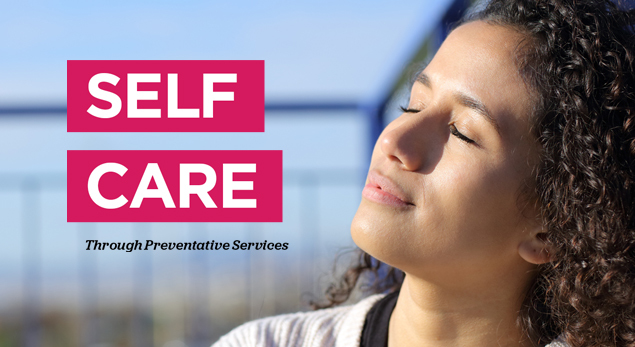 With March comes the beginning of spring, so it's no wonder that so many days and weeks in this month are centered around self-care. The weather is warmer, more people are going outside and individuals are thinking about ways they can take wellness into their own hands. At Evergreen, Women's History Month, Colon Cancer Awareness Month and Art Therapy Awareness Week are intrinsically tied to the work we do year-round. We love an opportunity to talk wellness and preventative services, so let's go!
Women's, Transgender and Gender Nonbinary Services
Some people are surprised to find out that our primary care clinic also provides gynecological care, including pelvic exams. Pelvic exams are necessary so that people who are born with a cervix can be screened for cervical cancer and STIs. We also provide birth control and family planning needs.
Of course, you do not have to have a pelvic exam to get tested for STIs. Our STI clinic is happy to accommodate women by urine or blood sample. The best part is that walk-ins are welcome at our STI clinics in Buffalo and Jamestown. However, if you would like to make an appointment, you certainly can.
Your primary care provider can also perform a chest tissue exam to check for masses. Also known as a breast exam, your provider can check for any lumps or bumps and instruct you on how to check yourself on a regular basis.
Evergreen Health offers many other supportive, medical and behavioral services that women in the community often make use of, though they are open to everyone. We encourage those who need assistance with housing, transportation, insurance linkage and health education to contact us. Our syringe exchange program, drug and substance use programs and mental health services are sensitive to women and their needs. We use a harm reduction model, which means that we never judge and let you determine the steps you would like to make to live a healthier life.
Colon Cancer
Anyone can get colon cancer, but did you know that this type of cancer disproportionately affects men? According to Roswell Park Comprehensive Cancer Center, only 1 in 24 cases of colon cancer will be attributed to a woman. It's important to know the signs of colon cancer and to get screened regularly, especially if you are over 45 years of age or have various other risk factors including a family history of colon cancer. For more information about colon cancer screenings, speak with your primary care provider at Evergreen.
Art Therapy Awareness Week
Art Therapy Awareness Week is held the third week of March every year as a means of promoting the value and efficiency of art therapy. Evergreen has always known that care does not stop with medicine. The most effective treatment plans are the ones that integrate all aspects of life, including but not limited to nutrition, housing and activities.
For many people, making art is a transformative process that allows them to be more self-aware and grow. It is scientifically proven to improve cognitive and sensorimotor functions. Many participants feel more emotionally resilient and have enhanced social skills once they bring art therapy into their lives. Our THRIVE Wellness program holds art therapy classes regularly. Those who are interested can call THRIVE at 716-847-2441 to learn how to take part in classes.
Preventative Care is Self-Care
Preventative services, like art therapy and screenings for cancer, are proactive ways that individuals can take control of their health and ultimately reduce stress and instances of severe illness down the road. Every patient is different, but we do know that in order to address illness correctly, other needs have to be addressed. According to Dr. Gbadamosi, "What works for Patient A doesn't necessarily work for Patient B. Unless you take a closer look at an individual, they may have the same problem, but the outcome may not be the same because of their unique situation." That is why Evergreen has services in place for housing, transportation, nutrition and wellness programs.
If you are interested in the services we offer at Evergreen Health, we encourage you to give us a call at 716-847-2441 where our staff can link you to life-changing medical, supportive and behavioral services that meet your needs.