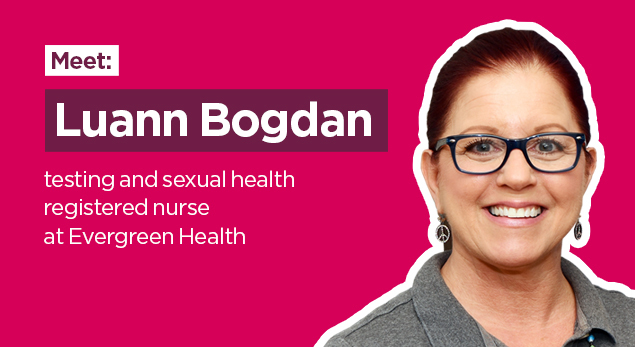 Testing and sexual health registered nurse, Luann Bogdan, has a lot of experience caring for others. Beginning her career as a personal care aid before attending Sister's Hospital School of Nursing, Luann has been a registered nurse for almost 36 years. In that time, she's also raised five children and become a mother hen around Evergreen Health and Community Access Services. You might even hear her being called Mama Lou! In our latest Team Evergreen interview, Luann talks about how important it is to not judge others and be present for people who need it the most, while still dedicating time for family and herself.
What is your role at Evergreen?
I am a testing and sexual health registered nurse. I do testing and sexual health education.
What made you think about going to Evergreen?
Well, to be honest, my daughter also works here. She works in information systems and told me there's a nursing position opening up at Evergreen and she said, "I told them 'My mom would be great for this! She is hardworking and compassionate. She just loves people and she's nonjudgmental.' You gotta go for it!" But when I interviewed the first time, I didn't get the position.
I always believe that timing is everything. It wasn't my time yet. So I just continued to work where I was working and nine months later, the position for testing and sexual health opened up. I interviewed and pretty much on the spot, Helene Cacciato interviewed me said "I'm hiring you!" She pulled me aside and said, "I can't step on anyone's toes but I'm going to hire you. I knew the minute I met you and you started talking, I gotta have her." She just saw it in me, I guess!
I can feel your passion! What gives you that desire to help others?
I am a mother of five, five adult children, so I'm very nurturing. But I've always been very nurturing, taking care of family members. Sometimes I'm maybe too much because I want to take care of everyone and they're like, "I can do this myself." So I need to step back but I love people. I love taking care of patients versus behind the scenes. I'd rather just take care of someone and really be there for someone. I really do love it.
Have you always had a nonjudgmental approach?
I say yes, but we're all human, we all judge to some degree. But you know what? It's how you act on that judgment. You have to take a step back and really put yourself in someone else's shoes because you never know. You really don't know anyone unless you walk in their shoes. My patients tell me that they're very comfortable with me and I don't judge. I'm like, "Hey, I'm not here to judge you. I can't throw stones. I am here to help you." And that's what we do here at Evergreen. I really feel that way.
Do you have a patient story you would like to share?
Well, we do PrEP here also, besides our testing, and we have this young gentleman who would come here frequently for testing. He was very high risk and we kept trying to get him on PrEP. He is on his parent's insurance and he was weary about them finding out. So we said, "Look, we're going to call the insurance company. We're going to get this rolling and get you started on PrEP. It doesn't have to go to your parents, it can all be addressed to you." I have to give a shout out to Jason Rein, our nurse practitioner, because he actually called the insurance company.
How do you help a patient open up?
I do assure people because especially the first time people come in, they're very nervous, so I just put it right out there, "Everything stays in here," I tell them. I explain everything to them. Talk to me because that's the only way I can explain things are if you tell me what's going on.
You sometimes have to give news people don't want to hear. How do you approach that?
You have to read the patient. By telling someone that maybe they're HIV positive, you just kind of ease into it and read them. It's hard to explain. I feel like I can say, "You're in a good place. We're going to help you. We're going to guide you. We're going to take care of you. We'll do some confirmation blood work and we will be with you every step of the way." And I really make myself available to patients. I constantly give out my card and I truly mean it. If you need anything or you just need to talk to someone, and you need help or have any questions or concerns. Please call me. I really do mean it.
Is it hard to deal with that emotionally?
It was. It's not that it isn't anymore. But it's something that you grow into a comfort zone, because I was very nervous the first time I had to tell someone they were HIV positive. It is difficult at times but you also have to have that tough exterior to handle your own emotions.
What do you like to do when you're not working?
Obviously I love spending time with my children and my husband, Paul. He works second shift so it can be difficult. But those moments when we are together are wonderful. We have two very fun vintage cars that my husband restored: a 1969 corvette and a 1969 little British MGC. We like to take those out, obviously only in the nice weather because those don't ever see snow. My husband does all the maintenance and restoration. He's a jack-of-all-trades. I got a good one! And he's been very loving and accepting of my children. He never had children. He has embraced my children.
That's wonderful. How did you and your husband meet?
We met at a car show. You know what it was, the thing that really brought us together was my twin brother restored our dad's MG52 and he was debuting it at this car show. Our dad had passed away 21 years earlier. Paul disclosed to me, "I noticed you walking around." I was with my sister and I said, "You noticed me? Not my sister?" and he said, "No, I noticed you." He said he didn't know who I was at the time and then I walked over to my brother and he goes "That's his sister!" Unbeknownst to us, we went to high school together!
It's so nice to hear those stories because dating in mid-life can be hard.
It is hard! I was done before I met him and I was happy. I had a little cute apartment in North Buffalo near the kids and I loved my life. But I love it even better now.
I heard you're going on vacation soon. Are you excited to decompress in Florida?
Absolutely. We literally just chill on the beach the whole week. We go out to dinner every night and we are just very low key. There's nothing really to do. We found a cute little Airbnb six houses in from the beach. We walk all around. It's so nice. There's always live music and we can walk on the beach. I don't need a lot. I like nice things, don't get me wrong, but I don't require a lot in my life. It's obviously, corny and cliché, but I want good health, I want love, I want happiness. I love my peace. Peace love and happiness, that's what I'm about. I don't require a lot in my life. I'm just grateful that I'm standing upright every morning and I get up and I can come to work.
It's nice to appreciate the little things because there's so much that other people don't have.
So true! I definitely feel very blessed.
Thank you, Luann, for spreading peace, love and happiness around Evergreen. We see you!