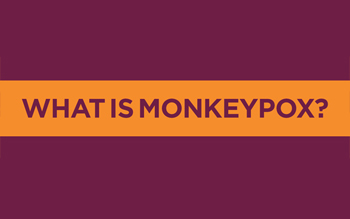 What is monkeypox?
Monkeypox is a viral infection caused by infection with the monkeypox virus. It is related to the smallpox virus and until the 2022 outbreak, was a rare disease among humans that was endemic to Central and West Africa. Initial clusters of cases in the current outbreak started in May 2022 outside of these regions and very quickly more cases became identified in Europe and North America.
How many cases are there?
As of July 29, 2022 there were 4,907 cases in the United States, however over 1,300 of those cases were identified in New York State. Most of these cases are in New York City, however here in Western New York there have been four in Erie County and one in Niagara County. Cases are also high in Toronto and other parts of Southern Ontario. No deaths have been reported from the current outbreak.
Is monkeypox like COVID-19?
Monkeypox is very different from COVID-19. COVID-19 is much more contagious than monkeypox. Because monkeypox is similar to smallpox (for which we already have vaccines), we know how it spreads, how to treat it and how to contain the outbreak.
What are the symptoms of monkeypox?
Symptoms can include:
Rashes, bumps or blisters that can look like pimples or blisters on or around the genitals, anus, mouth or in other areas like your hands, feet, chest or face.
Flu-like symptoms such as fever, headache, muscle aches, chills and fatigue. These symptoms may occur before or after the rash appears.
Symptoms typically only last 2-4 weeks
How does monkeypox spread?
Monkeypox is not a sexually transmitted infection. Monkeypox can however be spread in different ways:
Direct contact (skin-to-skin) with the infectious rash, scabs or bodily fluids
Respiratory secretions during prolonged face-to-face contact such as kissing or sex
Touching items that previously touched the infectious rash or bodily fluids
Who is at risk of monkeypox?
In this current outbreak, certain populations are being impacted by monkeypox more than others, including men who have sex with men (MSM). It is important to know that Monkeypox is not a "gay disease" and that the virus does not only infect MSM. People of all sexual orientations and gender identities are able to get monkeypox.
We have learned over the past 40 years of the HIV/AIDS epidemic that stigma is a public health issue, and it is important that we combat stigma of certain diseases and the populations that are most impacted by them so we can keep our communities safe and healthy.
How do I protect myself?
You may want to:
Avoid close, skin-to-skin contact with a monkeypox rash

This could even be raves, night clubs or dance parties where you might have close contact with others

Ask your sexual partners if they have any early symptoms of monkeypox (fevers, swollen glands, rashes)
Avoid sharing utensils or cups with others
Avoid handling or touching bedding, towels or clothing of a potentially sick person
Wash your hands often with soap and water
If you are experiencing symptoms and may have been exposed, it is important that you reach out to your local county health department.
What about the vaccines?
Evergreen Health will continue to communicate as we become aware of vaccine availability throughout Western New York. If you are interested in a vaccine and wish to know when they may become available to you, please contact your local county department of health.
For more information about our region's response efforts, read the recent article in the Buffalo News linked here.