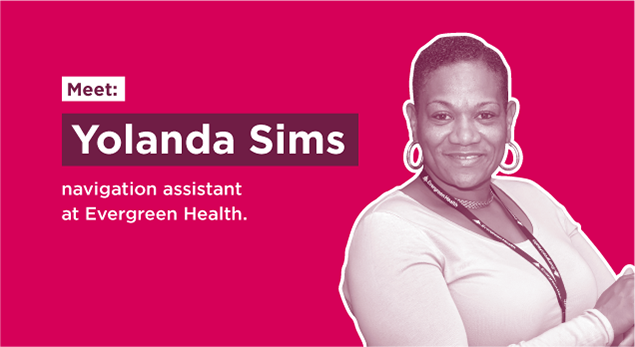 For navigation assistant Yolanda Sims, every day is a gift and a chance to help others grow stronger from their experiences. Whether she's guiding patients down the path toward becoming HIV undetectable or teaching kids to choose their words wisely, Yolanda does so with compassion and a sense of resilience that she fosters daily. In our latest Team Evergreen interview, Yolanda talks about her move from Erie County Medical Center (ECMC) to Evergreen Health and reflects on how kicking active addiction has allowed her to inspire others.
What's your role at Evergreen?
I'm the navigation assistant in the housing department. I work with patients who are HIV positive and help them schedule appointments and set treatment reminders, so they can become HIV undetectable. I also collaborate with the housing staff when initial contact is made with a patient that is currently homeless and doesn't know how to navigate through the housing system.
Where did you work before Evergreen?
I was working at ECMC in their immunodeficiency clinic as a peer navigator. They had a position open and thought I would be a good candidate for it. I applied, and that's how I got started in the healthcare field.
Why did you make the move to Evergreen?
I wanted to help patients become healthy, not only medically but also holistically. That's something that mattered to me.
What's the best part of your job?
I love the different challenges and I know every day is going to be different. No person is the same or has the same needs. I love helping the population I work with.
What's your favorite thing about working for Evergreen?
There's constant growth here and everyone's main priority is helping our patients. Evergreen makes a difference. When I think about all the services we have, the population we help and the accomplishments patients achieve, it makes me realize that Evergreen is a blessing to a lot of people.
Have you always lived in Western New York?
I've lived in Buffalo all 49 years of my life and I have three grandchildren here—ages seven, six and one and a half. I spend a lot of time with them. After work, I go over and visit them for at least a few hours every day and I usually get them one weekend a month.
When you're not with your grandkids, what are you usually up to?
There's a park near my house, and I usually sit there and do some meditative reading from Just for Today and My Daily Bread. I'm in recovery, and I attend Narcotics Anonymous. My reading helps me remember that I never have to return to that lifestyle again. It allows me to stay focused on the day I'm in and reminds me that there's a reason I'm here and there's a plan for me.
You're involved with your church. Can you tell us a little more about that?
I am a youth leader and part of the praise team because I love to sing. Every week during our children's hour, I encourage our youth to complete their assigned reading, and then I do a lesson with them.
What was your most recent lesson?
Yesterday, my lesson was that we need to watch what we say. I have to come up with little ideas to hold kids' interest. So, I had a tube of toothpaste and I squeezed the toothpaste in a cup. Then, I chose a volunteer and said, "Put the toothpaste back in the tube." He couldn't do it, which is exactly what happens after we say something—we can't take it back. We need to speak warmly to others and not say nasty things about people.
That's a great way to teach an important lesson. What else does your church do for kids?
Every year, we give an award to a young member of the church—the Sam Say Award. Sam Say was a young man at our church who passed away unexpectedly three years ago, and the award is given in his honor to someone who helps out in church, assists the elderly, treats others with respect and does their scripture reading, just like Sam did. The recipient gets $250 for school supplies.
What's one thing you're most proud of?
I'm proud that I didn't give up on myself due to active addiction. That choice has allowed me to be here and not give up on others.
We're grateful to have you here, Yolanda! Thanks for being a guiding light at Evergreen.