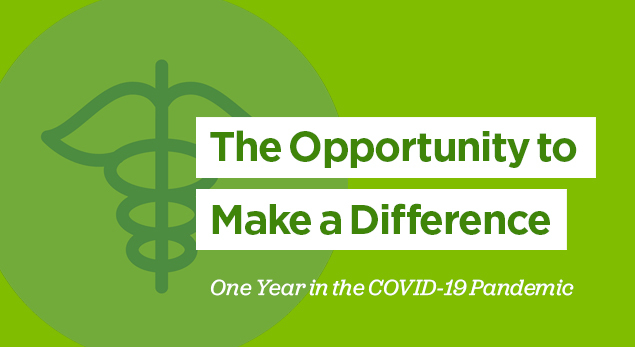 It's been one year since many of our lives were upended by COVID-19. As we reflect on this anniversary, which is devastating in so many ways, we cannot help but see the resilience in our community and our employees. Evergreen remained open every day. Our doors were able to stay open because of our incredible team. They knew there was work to be done and we were needed now more than ever. Our entire staff set their fears aside and showed up when they were needed most. Because of this, 10,017 individuals were able to continue healthcare at Evergreen.
Going a step further, Evergreen noticed that COVID-19 testing was desperately needed in areas where Black and Brown people live because they were being hit the hardest with COVID-19 infection. We opened a testing site in the 14215zip code, on Bailey Avenue, so that it would be accessible to the community. There, we administered over 1,252 COVID-19 tests between May and August 2020.
It cannot be underestimated how mental and behavioral health was and is still affected by the pandemic. These services were in high demand as people dealt with isolation, the loss of loved ones, economic hardships and uncertainty. Due to social distancing, Evergreen had to quickly pivot from our usual in-person services to offer virtual appointments. Not only did we quickly transition the team to this new technology and process, but we also educated our patients in a new way of communicating with doctors and counselors. Since April 2020, Evergreen Health's behavioral health services conducted over 12,821 telephone or video sessions with patients. For many people, this support got them through their hardest days.
For a myriad of reasons, people who use drugs were disproportionally affected by COVID-19. At Evergreen, we love people who use drugs. As part of our harm reduction model, we make sure individuals have the resources they need to use safely. We distributed 1,410,9783 syringes in 2020, preventing innumerable instances of HIV and hepatitis C exposure. Not only that, but by distributing Narcan to the community and educating people on how to use it to prevent overdose deaths, 715 lives were saved. That is 715 people who are still here today in our community.
Other infections and ailments do not stop just because there's a pandemic. At Evergreen, we were able to take in 6,957 walk-in patients for STI testing. This is significant not only because sexual health matters, but because we were able to take patients that would have otherwise had to go to hospitals and healthcare systems treating COVID-19 patients. By keeping our testing services open and accessible, those medical treatment centers were able to focus on individuals suffering from COVID-19 and its related illnesses.
With so much changing during the pandemic, along with the added distress of isolation, patients turned to their care coordinators for information and because sometimes they just needed someone to talk to. 1,600 unique patients received care coordination services in 2020. While every patient is different, we illustrated one patient's story in our blog. Like many other community members, Cyndie was struggling with depression and substance use during the pandemic. She made the decision to seek medical help to detox, but was turned away from other healthcare centers. Her care coordinator worked with her to remove barriers to medical treatment. Not only that, but she was a kind person for Cyndie to talk to when she needed someone to listen. Cyndie said, "I don't know how to express the gratitude I have for her. When someone fights that hard for you, you just can't—there's no way you can give up now."
We can quantify our impact with numbers but for many people, it's the personal stories that really show our impact. It's Arica from Community Access Services teaching individuals about proper condom use. It's Eva from housing helping patients find a place to call home. It's our patient Penny being treated for hepatitis C and getting her HIV to undetectable. Because we never closed our doors, we were able to help over 10,000 individuals.
Every single service we offer matters because each one had a positive effect on the life of at least one person, oftentimes more than one. We are grateful to our community, who rallied behind us with support. If you donated your time or hard-earned money to make a difference in your neighbor's life, we thank you. Your support has literally saved lives. The fight is not over, but we are seeing a silver lining in being able to administer COVID-19 vaccines to our employees and patients. On this anniversary, we are grateful to be given the opportunity to truly make a difference. Together, we will make it through.
Evergreen continues to stay open to provide medical, supportive and behavioral services to individuals and families in Western New York. We are committed to making Evergreen a safe and judgment-free environment for our patients. If you would like to learn more about our services, visit us at www.evergreenhs.org or give us a call at 716.847.2441.