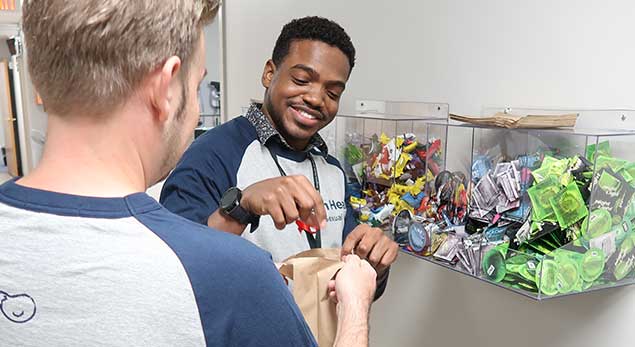 Meet Chris.
Chris is Evergreen Health's Disease Intervention Specialist at our Testing and Sexual Health Center in Buffalo. Chris is on-site to help those newly diagnosed with HIV or an STI recall partners and contacts so he can notify them. The notification process is completely anonymous. Partners are not told the identity of the patient or any details of the possible exposure.
Here's how it goes.
"My role, in conjunction with the DOH, is to notify and counsel patients and their partners who have been in contact with or exposed to STIs," explained Chris. "I talk to patients to identify exposure dates and partners, and I research medical history to assist the medical staff with treatment."
Chris also makes referrals to link patients with any other care they may need, through Evergreen or another provider.
"It's a great feeling when I contact a partner over the phone and they come in and get tested or treated," said Chris. "Patients are already stressed about having to deal with a new life-changing medical condition, and anything I and Team Evergreen can do to help them and their partners take some of that burden off their shoulders, we will. Also, every partner that is treated means less risk of spreading the infection in the community."
It's all about harm reduction.
"We accept that people are having sex. Sometimes they're going to have STIs, too. Letting someone know right away that we can help them and tell the people that may have been exposed is a huge relief for them, and it's immediate," said Matt, AVP of Enhanced Medical Services, who oversees the program. "It's also a service to the people we notify, who may not have experienced any symptoms and who can now access appropriate treatment as quickly as possible, increasing their chances of good health and reducing the risk of further transmission."
"The more we all talk in a sex positive manner and acknowledge that everyone has the right to make their own choices around their sexual health, the more we'll continue to decrease the stigma that exists around STIs in general," said Matt. "We're working toward a time when people don't feel angry or embarrassed if they receive a call that they may have been exposed."