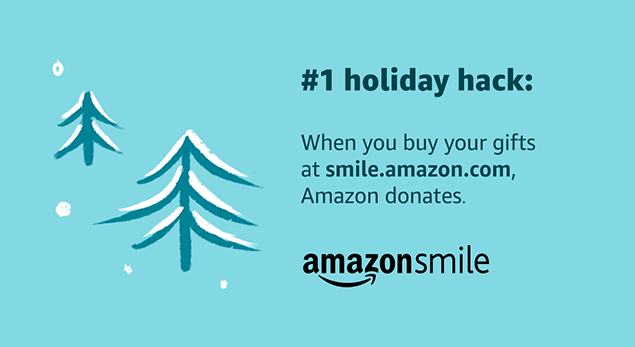 Are you looking for a way to give back this holiday season that won't cost you a dime, but could lead to thousands of dollars raised?
AmazonSmile is a way for you to support charitable organizations every time you shop. Evergreen Health relies on donations from our supporters to provide care for our patients. When you use AmazonSmile, Amazon will donate a portion of your sale to us. And it won't cost you a cent. It's that easy!
How to sign up for Amazon Smile:
Visit smile.amazon.com
Sign in or create an account.
Choose a charity. Search "Evergreen Health Buffalo" and you will see "Ehs Inc" in Buffalo, New York. Select us and your AmazonSmile donations will go directly to Evergreen.
Start shopping! There are so many great deals this time of year.
Add a smile.amazon.com bookmark to your browser for even easier access to charitable shopping.
Already signed up for AmazonSmile but want to change your charity to Evergreen?
Visit smile.amazon.com
Sign in or create an account.
Hover over your supporting cause below the search bar and select "Change."
Search for Evergreen Health Buffalo and select "Ehs Inc" in Buffalo, New York.
Start shopping and make sure you have a bookmark for smile.amazon.com so that all of your purchases are eligible for donations to Evergreen.
AmazonSmile is a simple, automatic way to support Evergreen. Amazon donates 0.5% of the cost of eligible purchases you make to the charity of your choice. While a half percent may not seem like a lot, many people using AmazonSmile over many purchases really adds up! Tens of millions of goods are eligible for donations, so chances are high that whatever you were already planning on buying would qualify and help Evergreen Health in their mission of fostering healthy communities in Western New York.
Remember to shop with AmazonSmile and Evergreen Health this holiday season!