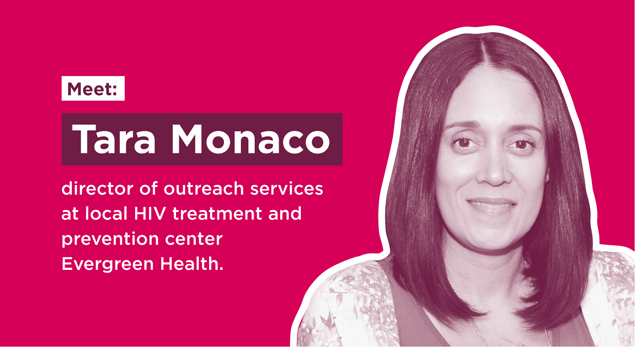 Of her move to Buffalo, Brooklyn native Tara Monaco says she felt "completely out of [her] element." But in time, she found her calling at Evergreen Health, where she currently serves as director of outreach services. In our latest Team Evergreen interview, we chat with Tara about the winding path that brought her here and being a source of strength for others in need.
What does a director of outreach services do?
I oversee a team that helps Medicaid patients with chronic conditions enroll in the state's Health Homes program so that they get the care and services they need to manage their health. When we get them enrolled, they are linked with a care coordinator who helps them navigate the medical system and figure out all the aspects of their total wellness, like safe housing, transportation to medical appointments and other social services. I also work really closely with community providers outside of Evergreen to determine the eligibility of their patients for the Health Homes program.
How did you get into this line of work?
Honestly, I fell into it. I went to school for performing arts at Alfred University, and I did a lot of acting; I worked at VH1 for a little while in New York City. But that's all freelance work, which can be inconsistent. So, I took an interview at a community organization in New York, and the vice president there just threw me into this HIV-intensive case management position. I don't know why. He saw something in me that I didn't see. But I fell in love with the field and ran with it.
Are you still active in the performing arts?
Up until a few years ago, I was in a lot of local films. I worked closely with Tragic Hero Productions—low-budget stuff, mostly. But as I started progressing in my career at Evergreen (I got promoted twice), and as my family started growing (I have three kids), I had to push acting to the wayside. But in my senior year of college, my major focus was working to encourage the Hispanic community at Alfred to get on stage, and a lot of them actually moved on to be really successful in New York City. So, that's a lasting impact of my acting career that I'm pretty proud of.
You took a break from healthcare case management for a while. What is it about the field that ultimately drew you back when you relocated to Buffalo?
You know, I could make a career out of any job. I could have made a career of acting. I'm a trained doula; I could make a career of that. But that first job working with people living with HIV resonated with me. I had never experienced the feeling of working for something that was bigger than me. And I am good at it. I always advocated for my patients really well. I was able to do a lot for them and clarify things for them. I am Puerto Rican, and most of my patients were Spanish. A lot of it was translation. A lot of it was helping them overcome the language barriers and the cultural barriers to getting mental healthcare. There is a big stigma around that in the Hispanic community, and I worked to break that stigma down.
What excites you about going to the office every day?
Honestly, it's the staff at Evergreen. If I wasn't surrounded by my team and the directors, it would be tough some days. But they're so supportive and so understanding; they see if you're struggling, even if you don't want to say something, and they step right in. They're amazing.
What makes Evergreen a great company to work for?
I really like that Evergreen's mission is very consistent. I like that a patient can talk to me and then talk to their care coordinator and then talk to a retention counselor in the other building, and the message is the same. I think that the energy we have and the culture that's here is so welcoming of everyone. We truly accept everyone. And that's consistent throughout every department.
How would you describe Evergreen in one word?
Empowering. We empower patients to be independent and to move past their hurdles. And Evergreen empowers its employees to be their best selves, personally and professionally. A lot of organizations don't do that.
Can we go back to your being a doula? Tell us more about that.
A doula provides support to people in labor. I used doulas for my first two pregnancies, and one day my kids' babysitter asked me to be her doula—something that I was not interested in or trained in at the time. But I said yes. So, I registered with Birth Arts International and attended a one-on-one, hands-on training weekend in New Jersey.
Once I completed the training, it was another one of those a-ha moments for me. Being a part of a community that's trying to empower and educate people around the birthing process just made sense to me. I think that there's a lot of injustice out there when it comes to hospitals and people who want to have a natural childbirth, and doulas hold a space for those people. Doulas help them have the experience that they want to have in the safety of a hospital or at home or at a birthing center. I'm proud to say I have assisted two births.
It must have been a rewarding experience then.
It's funny because as a doula, you really don't speak up too much when the midwife or doctor is in the room because there's a consenting relationship between the person in labor and the healthcare provider. So, when the first birth I assisted ended in a C-section, I did say to her, "well I really don't feel like I helped you." But she had a totally different take on it. She said that she knew just by me being there that she was safe—that whatever was going to happen was going to happen in a way that would be favorable to her and the baby. That was pretty amazing to hear. Sometimes you just need that person that is unbiased and maybe not related to you to really support you through the hard stuff.
We couldn't agree more, Tara. Thanks for being an indispensable part of our team and such a strong support for our patients!