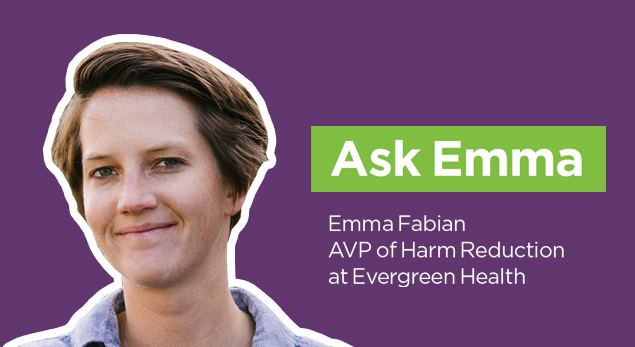 Emma Fabian, Associate Vice President of Harm Reduction at Evergreen Health, speaks about her role in overseeing Harm Reduction services for people who use drugs in Buffalo and Jamestown. She also oversees the mobile syringe exchange unit that goes out to Chautauqua County, rural areas of Niagara County that otherwise do not have access to harm reduction services, as well as the east and west side of Buffalo. In our conversation, she answers questions about the role the overdose crisis has played in Western New York and the ways COVID-19 has impacted the mental and physical health of this community.
For people who don't know what harm reduction means, can you explain it?
Sure. There are a range of really good definitions of harm reduction out in the world. I tend to land on a definition of harm reduction that's fairly general and is about providing care to people in an effort to reduce the potentially negative consequences of a behavior like drug use. And that involves really striving to meet them where they're at.
Some of my mentors refer to harm reduction as an umbrella term that can include people who have the goal of being abstinent. People do come into our doors at Evergreen Health and other places that are part of doing harm reduction and their goal is to stop using substances or stop some type of risky behavior. We know that for a lot of people, it's not just as easy as stopping right away. We have to have lots of different tools in our toolbox to meet people where they're at. That's harm reduction. It sounds a little cliché, but as care providers, we have toolboxes and we try to arm our patients with as many tools as possible.
How does the work you do impact the community and lawmakers?
To be committed to harm reduction services these days, especially because of the overdose crisis, means having a commitment to providing really quality services that meet people where they're at in their substance use and also working with community partners and working for social change. Sometimes that includes lawmakers to try to undo some of the stigma surrounding the populations that we serve and really shift the needle towards more comprehensive available services for people in our communities based on evidence and that are non-judgmental and welcoming. Those are things we do really well at Evergreen.
How do you think the COVID-19 pandemic impacted the overdose crisis?
It's two-fold, really. Vulnerable populations, namely people who use drugs and are struggling with mental illness, are often also struggling with housing and social aspects of life. COVID-19 exasperated the situation for people who are already struggling or in harm reduction and behavioral health programs. The most well-known harm reduction services are needle exchange, low threshold buprenorphine, also known by the brand name Suboxone, hepatitis C and HIV testing and linkage to treatment.
By having one-on-one or group conversations with our core members in the harm reduction programs, either about managing use, using safer or advocacy, we were really starting to think about what we can help do in the community. And so, a lot of that depends on trust and rapport and providing welcoming, non-judgmental, stigma-free spaces for people and connection between our staff and our patients; COVID-19 really put a strain on that. That's because we moved our syringe exchange from this very comfortable, welcoming third floor area of our main building to the lobby of the building so that we could just get equipment to people. Some of the magic of that trust, that rapport, unfortunately got lost because of COVID-19. Then, in Jamestown, our syringe exchange had to move sites. That was a little bit of a strain, as well. The mobile unit had to cease going out for a few months, which was really, really, really, really tough to know that there were people who were already struggling with having access to supplies. That's why we were taking the mobile unit to certain places. That was one that I think staff lost lots of sleep over, unfortunately.
I know fentanyl has been a huge issue. Can you talk about the impact of that drug during the pandemic?
When it comes to the overdose crisis, experts refer to it in three or four waves. The first wave of the overdose crisis was around 1999-2000 when we saw a rise in people overdosing from prescription opiates. The second wave, probably around 2010, was when we saw a significant rise in people overdosing from illicit opiates like heroin. Then the third very severe wave of the overdose crisis began around 2015-2016, when areas, especially Erie county in Western New York, saw a dramatic, dramatic increase in fentanyl overdoses.
Fentanyl is this really, really, really powerful opioid. It was made as a prescribed controlled substance for very, very, very severe pain in some unique circumstances. But the type of fentanyl that we're referring to when we're talking about the overdose crisis is a synthetically made substance that's being used to cut illicit drug supplies. There are several analogs, so the chemical composition differs slightly from analog to analog, but during COVID-19, we started to see a ton of stimulants cut with fentanyl in Erie County. Fentanyl was cut with cocaine and methamphetamine; that's really dangerous. People who use stimulants were not expecting this incredibly strong opiate to be like within their stimulant supply. Stimulants and opioids have the opposite effect on somebody's body, so they wouldn't necessarily be carrying Narcan to prevent overdose death. It was really scary for us to realize, because at the same time fentanyl was becoming more prevalent in a variety of drug supplies, the COVID-19 pandemic was shutting things down. And so, these parallel public health crises really impacted people who were quite vulnerable.
In what other ways do you think our patients who use drugs were or are being affected by COVID-19?
I think we'll be studying for years and decades the impact of COVID-19 on people's behavioral health, whether it's substance use or mental health, social isolation or anxiety. The nature of COVID-19, being something that it's pretty anxiety-provoking, scary and isolating thing that could strike anybody at any time. It could impact somebody regardless of their precautions and their background. Mental health and substance use rates have been documented by the centers for disease control and prevention and other groups as really skyrocketing among all populations, all communities during COVID-19.
What unique work does Evergreen do for people who use drugs?
We provide some of the only low barrier harm reduction programs for people who use drugs in Western New York, actually. By low barrier, we mean that we don't require a whole lot of patients in order to receive these basic services. Some examples of low barrier or low threshold programs are needle exchange, Narcan to prevent overdose death and access to a welcoming place to talk with a skilled person about substance use. Besides Evergreen, the closest syringe exchange program is Trillium Health in Rochester, which is quite a distance away considering how important syringe exchange programs are at decreasing disease, transmissions, saving lives and getting patients a foot in the door to the healthcare system.
What do you say to someone who doesn't feel like the overdose crisis affects them?
During 2020, about a hundred thousand people lost their lives to drug overdose. The Center for Disease Control released a report that 93,000 people at least died of a drug overdose. You'd be hard pressed to find someone in the Western New York Community who hasn't been touched in some way by the overdose crisis at this point.
What do you think some next steps are in regards to decreasing overdose death?
We've learned over the past decade or two, and especially because of COVID-19, that we've got a lot of members of our community who are really struggling and are quite vulnerable. We can't just tell people to stop using drugs and expect that that's going to work if we really want to decrease overdose rates. I think there's some awareness raising that we have to do as harm reductionists with lawmakers. The people that I've interacted with in the past year or so in Western New York seem to be up for the challenge. We have found some good partners locally, who, for instance, co-sponsored our effort to decriminalize syringe possession in New York state.
New York state's overdose rates increased in NYS during COVID-19 adversely more so than the rest of the country; overdose rates in our country increased by about 30% during COVID-19 and in New York state, they increased by almost 40%. In Erie County, they increased by a whopping 60%. Chautauqua County and Niagara County are some other areas that are really concerning in terms of overdose rates and hepatitis C. But we also happen to have a very forward-thinking health department in Erie county; that department has helped really develop a comprehensive response to overdose, it's just that we're up against so much right now.
It seems like a hard job.
There are hard days for sure, because we're up against a lot and we're doing services that some people see as controversial because of all the stigma that our community, that our populations face. But I think I have a dream job. I feel really lucky to be allowed into the lives of our patients. You know, they trust us and they spend so much time with us. We've got a really special thing going on here at Evergreen. And nobody pays me to say that–you know, they just pay me to come to work here. And I don't say stuff like that lightly. I think I have the best job in the world. I think that at our organization, we have a special thing going that we get to continue when it comes to serving these people.
Do you mind sharing what drew you to this type of work?
I remember being younger and the way that people in my family, like my father, who was a social worker, really just humanized populations who were struggling with mental health, substance use and homelessness. That was a big part of my life growing up. Then I became a social worker and, we don't talk about this a lot in society but like a lot of families in our communities, my family has been touched by mental health and substance use. And so, coming to work at Evergreen, what I started to see in terms of the way that we humanize people and we don't judge people, that's healing. That's more healing than any medication or anything else that we can do in healthcare for me. It just really energizes me and that's kept me going through these difficult past several years.