Our Primary Care team will coordinate with our Specialty Care teams to ensure you get the care that you need. Our teams specialize in HIV, hepatitis C, transgender and gender-expansive care, podiatry, gynecology and neurology.
---
LGBTQ+ health, transgender and gender-expansive specialty care
Evergreen is a safe, affirming health center that provides sensitive care. We understand the health concerns of the lesbian, gay, bisexual and transgender community, and specialize in transgender and gender-expansive health services, including: medical care, counseling, educational/social groups and more. We are dedicated to helping our patients feel safe, valued and welcomed.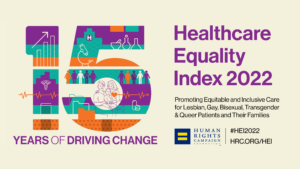 Care for Individuals with Developmental Disabilities
Evergreen Health offers specialized care for individuals with a wide range of developmental disabilities in a comfortable, inclusive environment.
HIV treatment and care
Founded as AIDS Community Services in 1983, Evergreen historically addressed the crisis generated by HIV and AIDS. Today, HIV is a manageable chronic health condition and is often treated with a simple daily prescription pill regimen. We offer comprehensive HIV services to help you manage your HIV and live the life you want, including: medical care and treatment, pharmacy services, insurance enrollment, individual and group counseling, case managers and care coordination, and more.
HIV prevention
We are committed to providing HIV education and prevention services to our community. We offer HIV testing and treatment and are the leading WNY provider for PrEP, a drug for HIV prevention.
Hepatitis C treatment
While hepatitis C can be cured, treatment can be hard to find or stick with. We offer hepatitis C testing, treatment, pharmacy services, counseling and more. We can help you get into and succeed in treatment to cure your hepatitis C.
Gynecology Services
Our GYN services include annual pelvic exams, diagnosis and treatment of sexually transmitted infections, family planning and treatment for abnormal pap smears. Our services are LGBTQ+ friendly offering care to women, transgender and non-binary patients.
Podiatry
Our podiatrists specialize in the health of the feet and lower legs. They can treat injuries as well as complications from ongoing health conditions such as diabetes.
---
Evergreen Health accepts a wide range of insurance plans and does not turn patients away due to their inability to pay. For uninsured or underinsured patients, we offer a sliding fee discount program to provide care to patients at a cost they can afford. Our Financial Counseling Center is here to help you with all the financial components of your healthcare.
More than just medical care
We have a wide range of programs and services that will help you live your healthiest life. These services include: