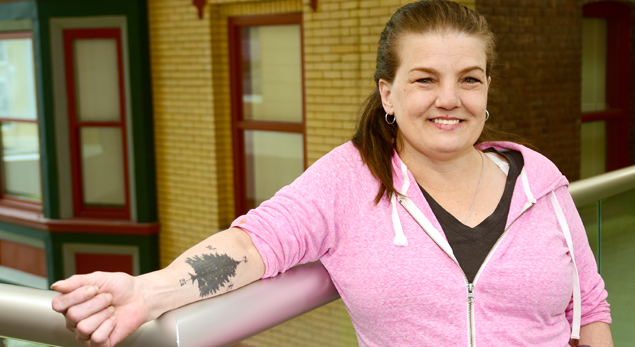 Penny is well known around Evergreen for many reasons, the most unique of which is her Evergreen tattoo. Penny says "You really have to search to find your compass. Regardless of if it's Evergreen Health or an evergreen tree in a forest, you still have opportunities to find yourself."
Penny knows too well the hardships in finding herself. She was first introduced to Evergreen when she was homeless. It was one of the few places she could get a decent meal and a warm place to rest. She describes hitting rock bottom when she was put on life support. Penny had developed MRSA and her body had gone into septic shock from drug use. She found out she was positive for hepatitis C. Her organs were failing; she was dying. Penny's family came to say goodbye to her, though they had been estranged for years.
But Penny still had fight left in her. She remembers Dr. Shon's face when she woke up. Penny still sees Dr. Shon, medical director at Evergreen Health. They have a very honest relationship. "I would never go anywhere else," said Penny. "Basically, when it comes to Evergreen, if you need help, it's here."
Today Penny has what she needs to live a healthy life. She receives care from a doctor she trusts who never judges her. Her HIV is undetectable thanks to the care plan her doctor prescribed, the accessibility of the Evergreen Pharmacy and her commitment to her health. She ascribes to harm reduction principles and no longer uses drugs that are damaging to her body. Penny enjoys working on art projects in the THRIVE program and her hepatitis C is under control.
Mending her relationship with her daughter has helped Penny the most. "She went through hell with me: drug binge after drug binge. I did a lot of damage. If it wasn't for the fact that I almost died," said Penny, "I wouldn't have gotten my family back."
Penny is a unique person, but her situation is not. Every day, we help patients who are without homes, affected by illnesses like HIV and hepatitis C and who need access to medicine and housing. Every donation made on World AIDS Day and Giving Tuesday, December 1, will be matched dollar for dollar up to $5,000. After that challenge by Feldman Kieffer is complete, a second matching gift challenge will be available from our Board of Directors for dollar-for-dollar matching up to $6,550. Donating to the Evergreen Health Foundation means caring for those who help care for others.
To donate for World AIDS Day and Giving Tuesday, click here >>