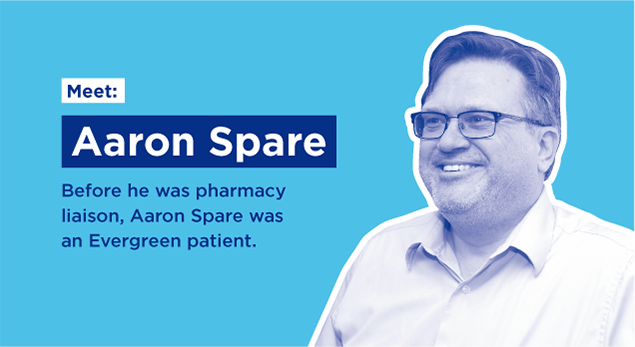 The first time Silvercreek, New York, native Aaron Spare saw the television show "Emergency," he knew he wanted a career in healthcare. Since then, he has worked locally as a paramedic, in New Mexico as a plasma collection center manager and in Texas as an emergency medical services (EMS) program specialist. These days, he serves as pharmacy liaison at Evergreen Health, where he's not only an employee, he is also a specialty care patient.
In our latest Team Evergreen interview, Aaron talks to us about his role helping patients manage their medications and finding his happy.
Just a few years ago, you were in Houston working as assistant to the EMS director for the state of Texas. What brought you home to the Buffalo area?
I'm gay, and I'm HIV positive. I don't mind telling people that. And I was married, and my husband got sick and passed away. I stayed a year in Texas, and just—I guess I couldn't do it. So, I came back.
That must have been a very difficult time in your life. How did you first connect with Evergreen when you returned?

When I moved back, I lived where I grew up, in Silvercreek, about an hour outside of Buffalo. My HIV care back then was provided by a rural clinic. Eventually, I became an Evergreen patient and started working for the organization as a medical case manager and care coordinator. In that role, I naturally began enrolling patients in our pharmacy service—quite a few patients actually. In my opinion, the continuity of care is there. If you're getting your care at Evergreen, it's good to get everything here.
What do you do now at Evergreen?
They created a new position: pharmacy liaison. I work out of Buffalo to link patients with our pharmacy. I explain the benefits to them, and I help with insurance issues, medication issues and any concerns they may have about their prescriptions. If there is an issue, I work to correct it. Then, in my spare time, I help the uninsured get insured, so they're not without medication. I also call patients to set up deliveries or let them know their medicines are ready.
I still have high patient contact, which is good. I probably wouldn't have taken the new role if I didn't, because I do like helping people and interacting with patients.
Is there a benefit to using Evergreen's Pharmacy versus a big-name drug store?
If you're an Evergreen Pharmacy patient, I will directly contact your providers through the electronic medical record system to get your refills. I will work with the nurses to get prior authorizations for your medicines, if needed. Unlike chain pharmacies, patients never have to worry about that stuff here. I do all of that for them.

What do you like most about your job?
Knowing that I can make life a little easier for patients if there's any issues. Back in Texas, I got fired three days after I told my employer my husband had liver cancer. So, I ended up having to get a lot of help for both of us. I went through the wringer. But because of that, I know how to help patients. It's nice to see them take a sigh of relief.
I mean, it's not only my job. I'm doing it because I want to. I want to help. There's been several times when patients run into a glitch, and I can get them their medicines the same day. It's really rewarding, and sometimes I don't want to go home. I like my job that much.
What makes you well suited for your role?
I think one of the biggest things is I'm not afraid to go in and talk to a patient and say, "Hey, I'm HIV positive, too. What do you need? Let me help you." A lot of times, especially if a patient just got diagnosed, it helps knowing somebody's on their side who understands how it feels.
What makes Evergreen a great organization to work for and with?
It's very family friendly. You see people every day and get to know them, and you're there for each other if anybody needs anything. I say family because I'm gay. You know? We use that term. A work family.
How have you grown or changed since you started with the organization?
In other jobs, I took everything seriously. My husband was more of a make-you-smile-and-laugh kind of guy. Now, I joke around sometimes. I'll walk around with my glasses upside down just to try to put a smile on somebody's face. Recently, a coworker said something like, "You're so funny. You make us all happy." And it just hit me: I never used to be like that. Now I am. I have fun and relax and smile. That's made my life better. I think that's one thing I learned here about myself: to not take everything so seriously. Enjoy your job. Enjoy your life and be happy.
What are some of your favorite happy things?
I have four little dogs: two chihuahuas, a chiweenie and a toy rat terrier. They're my children! Three of them I got with my husband; one I adopted on my own. The rat terrier is named Princess Anastasia Beaverhausen—Poodle for short. The others are Reba, Penny and Curly. And I make jewelry when I can get to it. Earrings are the easiest. Necklaces and bracelets, also. I've done a couple rosaries and bookmarks and little angel pendants. I give them away as gifts.
Now that's something to smile about. Thanks for everything you do at Evergreen, Aaron!