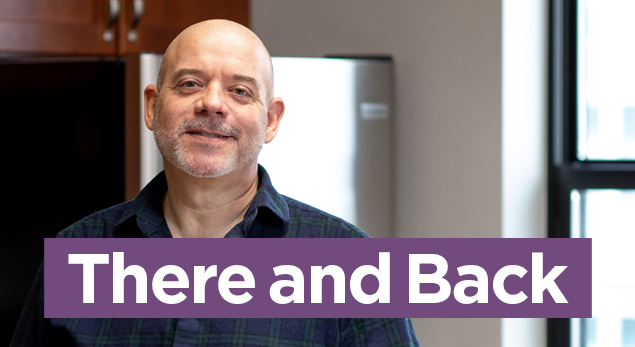 Hepatitis C care has come a long way. Now, more than ever, cures for hepatitis C are less likely to cause impairing side-effects and are more readily available. However, these cures do nothing if people are not empowered to take control of their health. Those who use drugs, experience unstable housing and employment are less likely to be able to justify prioritizing healthcare. Chris' healthcare journey has been riddled with obstacles, but he has come out of it all stronger, in a better place mentally and physically because he decided he had enough of the way he was living.
When a friend who uses drugs told Chris that at Evergreen, he could get free syringes and supplies, he was skeptical to say the least.
"I didn't believe it, a place where you could get free needles and everything was clean," said Chris of his first experience at Evergreen. "They were $5 a pack at Rite Aid and it was always embarrassing to buy them."
Chris started going to Evergreen for his drug user services, first for supplies, then for support groups. Although he was quiet, staff started recognizing him. When a harm reduction counselor in the syringe exchange program, saw Chris sleeping on a park bench, they connected him with housing services.
"I was still going to the harm reduction center, but I didn't really talk to anyone. I was homeless on the street for a while and staff was doing outreach. They would go out into the community. She found me sleeping on a bench and helped me get an apartment," said Chris.
Having those needs met really helped Chris. He was able to address other issues that seemed less important when he was without a home.
A few years ago, Chris started feeling sick. He was having stomach aches and trouble with his bowels and urination. It was hard to describe but he knew something didn't feel right. Chris didn't know until later that one of his friends had shared his cap and cotton when they were using drugs together.
"I figured something was wrong with my body. I was really nervous and got tested for everything. They said I was positive for hepatitis C," Chris remembered. "But the nurse said, 'It's just hep C. We can clear it.'"
Although that made him feel a little better, Chris was concerned about the expense. Would his insurance cover it? What if he wasn't approved? Not only that, but he had heard the medication would be tough on his body.
Insurance did cover it and after taking the medication faithfully for 90 days, Chris was cleared of his hepatitis C infection. The medication was much easier on his system than he anticipated He was still able to do his daily activities and experienced very few side effects. Although he was cautioned that it may make him feel sleepy, he was more energized after taking the hepatitis C medication.
"Getting hep C has taught me not to let things go. Don't be embarrassed. That's one thing I really, really like about Evergreen: they don't make you feel alienated. It's just a better feeling than a regular doctor's office. I definitely learned that if something's wrong, go to a doctor about it. I learned not to share anything, ever," said Chris.
Chris also credits Liz Whipple, director of harm reduction, for saving his life. She found him when he overdosed; she used Naloxone to resuscitate him.
"I definitely owe Liz and give her a big hug every time I see her," said Chris. "As you can imagine, I was going pretty hard and rough. I didn't really care about myself."
Earlier this year, Chris became re-infected with hep C. Reinfection can happen after someone has already been cured of hep C because the medication only treats an active infection. Although he felt guilty about acquiring hepatitis C again, Chris knew that at Evergreen he was in a safe place where he wouldn't be judged. He recently successfully cured his hepatitis C infection and decided that he wanted to stop using drugs.
"I came to my end. I'm not getting any younger and I have a 12-year-old son. He needs me. I think I just came to end of the road where I got sick of the whole game: being around bad people all day, destroying your body, spending money that you don't have. It's not worth it. I've been to rehab numerous times and I've been to jail and nothing's really turned me around. I guess the answer is that people just have to hit their end. Nobody could really force me to stop."
COVID has been difficult for many people who use or have used drugs, including Chris. He relies on programs to help maintain sobriety. Prior to the pandemic, he was attending four or five support groups a week. Although he is still meeting with a mental health provider, attending the virtual drug user health coalition group with the harm reduction center and was recently assigned a peer support counselor at Evergreen, he misses being able to meet with people face-to-face. He has struggled with the self-isolation Coronavirus has mandated.
"If I just sit around too much, I get ideas in my head. Do you know what I mean? But if I schedule meetings, I can at least get out of the house and talk to someone."
Chris looks forward to being able to meet with others through groups and the THRIVE wellness program once it's safe. He wants to share his story because he wants to discourage individuals from sharing needles and encourage people to reach out for help. It can be scary and difficult at first, but having built-in support has made a huge difference for him. Never being judged or turned away is a reason why Chris continues to come back to Evergreen.
---
Evergreen believes in patient-focused healthcare. We will never force you to do or be anything that you're not. Whether you want to quit using drugs or gain control, cure your hepatitis C or learn about your options, we are here for you. For more information on our drug user services or hepatitis C care, please visit our website or call us at 716-8447-2441.