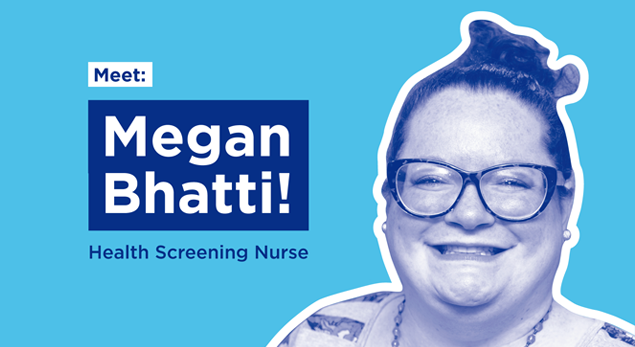 As a Health Screening Nurse in Evergreen Health's Sexual Health and Testing program, Megan Bhatti is on the front lines of patient care. In our latest Team Evergreen interview, she talks to us about the Harm Reduction model that meets Evergreen patients where they are in life and the passion for people and community that drives her professionally and personally.
Can you tell us a bit about the Sexual Health and Testing program and how someone can access its services?
At Evergreen, we offer walk-in and by-appointment screening and testing for gonorrhea, chlamydia, syphilis, HIV and hepatitis C. We'll also treat anybody with an STI or STD and link people who are diagnosed with HIV to Primary Care and other health services. If they are diagnosed with hepatitis C, we refer them to Evergreen's hepatitis C care and treatment program.
How did you decide on a career in nursing?
For my first bachelor's degree, I studied Spanish, actually. After I graduated, I knew I wanted to do something different. So, I joined the Mercy Volunteer Corps and spent two years in Georgetown, Guyana, which, ironically, is the only English-speaking country in South America. There, I worked at an orphanage for boys and at an HIV clinic, which put in my head the idea of becoming a nurse. But I had been planning to go to graduate school for student personnel administration. So, I came back to the U.S. and did that instead. From there, I started working in a healthcare setting as a grant writer at Jericho Road Community Health Center. It was only then that I started to take night classes to see if I could hack it in the nursing world. I ended up going to University at Buffalo for an accelerated bachelor's degree in the nursing program. Long story short, I became a nurse after trying about 82 other things first. Just kidding! Sort of…
Wow, that's quite a journey. Did you join Evergreen straight out of nursing school?
No. I was working full-time at a hospital when I decided I needed a change. I knew that I wanted to be in the community and wanted to be somewhere where I was making a difference.
That's when I found out Evergreen was hiring a Hepatitis C Adherence Nurse, which ended up being my first job with the organization. A friend of mine was Evergreen's Director of Substance Use Services at the time, and after she gave me the rundown on Evergreen, I knew it was someplace that I could really fall in love with. When they offered me the job, I said yes immediately.
What was it that so definitively sold you on a career at Evergreen?
I love that it is about meeting patients where they are in their health life and their social life and their emotional life. It matches my personal set of values.
Now that you've been with Evergreen for almost three years, what would you say makes it a great organization to work for?
The people we serve are amazing. They create this space where people want to come to work, want to serve. My coworkers are also phenomenal. I look forward to seeing them every day because I know I'm never going to laugh as hard as I do with them. The community of support is unbelievable. Everybody here has a similar mentality, a similar spirit and a similar passion for people—especially for people who are typically underserved in the community and marginalized by other parts of the community.
What is the most challenging aspect of your work?
Positive diagnoses, especially HIV and hepatitis C, are very difficult to deliver. It's not at all a death sentence like it used to be, but it's still fighting the stigma. It's the challenge of diagnosing someone with the stigma of having the disease, which is the hardest part to fight, I think.
If you had to describe Evergreen in one word, which word would you choose?
Irreplaceable. This organization is a unique institution in our city and in our country. I don't think there's any organization that can do exactly what we do the way we do it. And I think it's an institution that people in the community look to for advice and for strength, especially during these tumultuous times. It's an irreplaceable service to many people.
What is it about the way Evergreen provides services that makes it so remarkable?
It's our Harm Reduction model. We meet people where they are in their life, whether it's a person who has diabetes who isn't ready to give up sweets or a person who is using heroin who's not ready to completely quit. In a case like that, we would try to educate that person on using in a safer way, for example. It's about learning how to get to your next best place. I don't think a lot of organizations have that kind of individualized approach.
It sounds like a very rewarding but at times stressful work environment. What keeps you busy outside of work, and what do you do to decompress from the challenges of your day?
I'm actually in school to be a psychiatric nurse practitioner. So, school takes up a lot of my time. And I'm recently married. My spouse is an amazing chef and an amazing partner. He is the light of my life. I also love paper and mosaic crafts. There is a group of us from work that get together to make a craft for whatever month or whatever holiday is coming up. It's really fun. I have a little paper craft I made in my office that's in the shape of Buffalo with a heart next to it, because I love this city.
What do you love most about it?
The people. The people in Buffalo are amazing. There's not one day that I couldn't get my car out of my driveway that somebody in my apartment complex wasn't willing to help push me out. It's going to the store and running into three or four people that you already know or just a smile from somebody who lives down the street. I think that those are things that make Buffalo what it is.
We agree; there's no place like Buffalo. 💜 Thanks, Megan, for chatting with us and for everything you do for our patients!