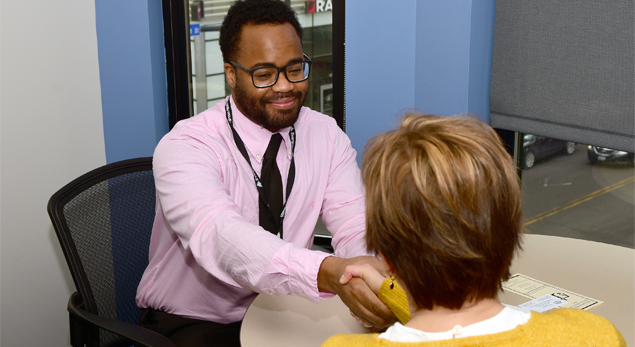 Ever since the legal services of the Health Equity Law Project (HELP) opened at Evergreen, over thirty clients have walked through their doors with questions ranging from disability benefits to student loans. Additionally, individuals with eviction notices, utility shut offs and those seeking family legal counsel have all been helped through the HELP program.
HELP, a grant-funded program in partnership with Neighborhood Legal Services Inc., allows Evergreen patients access to free on-site civil legal counsel through licensed attorneys. Penny Selmonsky, attorney at HELP and Neighborhood Legal Services, explains that legal matters regarding Social Security benefits and disability are extremely difficult to navigate on your own.
"It's complex. It's dense and regulatory. People don't think they need a lawyer for it, but it really helps," said Penny.
Penny recalled an instance in which an employee at Social Security inputted the wrong income into her client's claim for benefits. As a result, the client was only receiving $61 in total benefits. After Penny disputed the incorrect income, she was able to get her client a supplement of $1000 in rightful benefits. That's sixteen times the amount the client was awarded previously!
Larry Waters is another attorney at HELP and Neighborhood Legal Services. He found a case where an employee at social services entered the wrong code in a client's budget. Because of that error, the client was receiving little to no benefits. Once Larry corrected the error, the client's SNAP food supplement went up by $500. Larry was able to catch this inconsistency that would have otherwise been missed because he specializes in social services and is familiar with the paperwork and coding that Social Security uses.
Even general inquiries are taken seriously. Larry remembers a client coming in after receiving an eviction notice, and in speaking with the client and navigating through the legal process of eviction, found that the client actually had a lot more time to find new housing or appeal the case altogether.
"It's about educating the clients that come in. We're here to guide them so they don't have to navigate the legal system blindly," said Larry. "People don't always have the resources or access to these services, so we're here for them."
Many people are intimidated by the legal system. Penny's client was in the stages of getting her daughter back from Child Protective Services but was afraid to go to the Department of Social Security by herself.
"She was just afraid so many bad things would happen, so we went together. It was great because you get dealt with a bit better when someone else is with you. We went down there, she got her benefits back, her sanctions lifted and some retroactive money, so at least now she has income," Penny said. "It's a multi-stage process, but situations like this go right to my heart because it will change her life. I don't know what would have happened if she had to do it herself."
---
HELP Legal Services is a grant-funded program in partnership with Neighborhood Legal Services Inc. whose attorneys provide free civil legal services to patients of Evergreen Health from 10 a.m. to 2 p.m. Tuesday and Wednesday and by appointment on Friday at 206 S. Elmwood Avenue located in the Harm Reduction Center and 10 a.m. to 2 p.m. Thursday at 3297 Bailey Avenue.