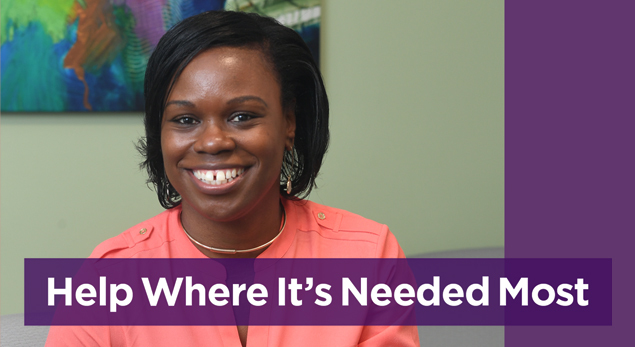 Kim Brown, executive director of Community Access Services (CAS) dedicates her career to giving back to the community she came from. CAS and Brown have a shared, mission to address the epidemic of HIV and other diseases that challenge the welfare of urban communities in Buffalo and Erie County by assuring the availability of comprehensive care services, including prevention education and treatment. By offering a variety of services to help patients reach their health and life goals, including testing and counseling services, CAS is able to offer support for men and women to access healthcare and learn about healthy living.
An Evergreen Health affiliate, CAS is always busy serving the community. As 2021 comes to a close, they've been focusing on two promotions: at home HIV testing kits and Testing for Turkeys. Read more about these events, how the Evergreen Health Foundation's donations impact people in the community and the recent recognition Kim Brown has been awarded.
Can you explain to people who might not know what CAS does, including the services and population that you serve?
We are an affiliative of Evergreen Health with an overarching mission of assisting communities of color with accessing equitable healthcare and addressing chronic illnesses, specifically HIV, that impact marginalized communities. As an organization, we provide HIV testing, education and prevention services to communities of color.
We believe in ensuring that everyone has access to care. We have targeted zip codes for high risk populations with 14215 being one of the primary zip codes, hence why we're housed in this section of the city of Buffalo. Our goal is to be accessible, whether it be through private transportation or public transportation to the community. We call our location the heart of the city of Buffalo.
What services does CAS provide to the community?
Our services entail recruitment and outreach, conducting community-wide events in hopes of reaching individuals who are at risk to provide education about these services and HIV— focusing on how they can be safe and obtain testing services. We partner heavily with other community-based organizations in the surrounding community.
Pre-COVID, we did a lot of offsite events, to meet people where they were and spread the word of why it's important to be tested for HIV and other STIs. In addition to our community-based services, we also provide services to people who are incarcerated in the New York State Department of Corrections Wende Hub. We do peer education training and provide linkage and navigation services to people coming out of the correctional facility and into the community. It's a great way to ensure that people are reintegrated back into the community and they have the tools and resources necessary to address their healthcare needs. We really strive to meet individuals where they are.
You mention HIV being a major factor in our education efforts. Can you tell us more about that?
It's no secret that persons from communities of color often experience health disparities and discrimination within the system of healthcare. HIV has been disproportionately impacting communities of color since the very beginning of the epidemic. As individuals from communities of color, we don't always have access to care or information regarding our health care options. Additionally, there's a lot of stigma in the community around the risk factors associated with HIV, so to speak. We have a lot of people who shy away from taking steps to know their status for a multitude of reasons: fear of being ostracized or judged. We know that with the healthcare system and its treatment of people of color have contributed to poor health outcomes. There is room for improvement to ensure health equity for communities of color.
Additionally, we practice a harm reduction approach with all of our services and interventions. We assure people that we're here for them. We don't judge them and we're on their side. This is a safe space.
What has the impact been from donations through the Evergreen Health Foundation?
We are given the ability to reach out of the box in terms of what we would generally provide under our grant-funded services. It's allowed us to provide food pantry services, which is something that we're self-funded to do. We have also had the ability to provide the community with personal protective equipment (PPE) during COVID. At one point in time, it was very hard to get gloves, masks and sanitizer, so we wanted to do our part to ensure that the community had what it needed to remain safe during these unprecedented times. We've been able to effectively provide that to the community during our outreach. The foundation has been instrumental in securing funds to be able to provide resources and services that we're traditionally not funded to do.
Can you tell me about some of the events you have going on?
We are working in collaboration with the New York State Department of Health and the AIDS Institute to help promote at-home HIV testing kits, free of charge, to individuals who sign up through information provided on our social marketing campaign. You can also visit our website for more information on how to access these kits. People can actually get a HIV test kit mailed to their home; they can do the testing from the comfort and privacy of their home. We have the opportunity to provide that person some support around the results of that test, whether it be reactive or non-reactive.
Can you speak about Testing for Turkeys?
I've been here at CAS since 2018 and I believe this event predates me. It started off with the organization receiving a donation from one of our community partners and saying, 'Hey, why don't you distribute these turkeys to the people you serve?' and we just grew it from there. We've been doing it annually and ensuring that anyone who comes in within the week prior and leading up to Thanksgiving would receive a free turkey for completing a HIV test with us. It's greatly received. It is an opportunity for us to connect with the community and engage with them in a different way. We know that the need for the community we serve is great, therefore we try to go above and beyond to support the community.
We are always looking for sponsors to support our events. Especially this event, it takes a lot for us to pull it off. When feasible, we like to give side dishes, too. It's great when we get donations for that, as well. We would love to keep growing this event.
Do patients receive a physical Turkey for getting tested?
Yes! We've provided turkeys ranging from 16 to 20 pounds. We have some people who have larger families so we try to give them enough to feed their entire family and celebrate the Thanksgiving. We anticipate continuing this event in 2022, the week before the Thanksgiving holiday.
Do individuals need health insurance to get tested?
We offer HIV testing free of charge. For STI testing services and treatment, our Evergreen Health Primary and Specialty Care Clinic requires insurance. However, if someone is not insured or under-insured, that person can be supported to obtain insurance. There is also a sliding fee scale for patients who choose to pay out of pocket.
You were the recipient of two special awards this fall. Would you mind talking about them?
This year I was nominated as a Buffalo Business First Women of Influence. It was a great honor to be surrounded by other recipients from different organizations and businesses with a heart for community. It was truly an honor, as I think of myself as someone who just wants to give back to the community from which I come. I think it's my responsibility. I've been afforded so many opportunities so to have a hand in the community and be recognized for community-based services as an influencer was really amazing. In addition to that award, I also received the Black Achiever's Award, which is a big deal. It's nearing its 50th year in awarding honorees and it has been awarded to African Americans who have made a positive impact on the city of Buffalo. I'm just really honored to be among them. It was very humbling. I had a pretty busy September!
If any of our readers want to donate specifically to CAS, how would they do that?
When anyone donates to the Evergreen Health Foundation, they can specify that their donation goes to Community Access Services. We also have a donation page that's located at caswny.org/donate.
Thank you, Kim, for the work you do in giving back to the community!