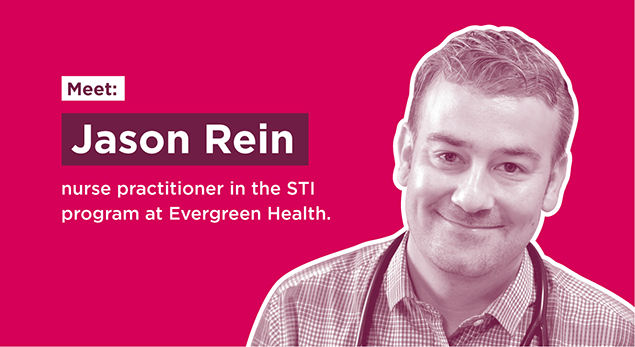 For Jason Rein, what started as volunteer work has turned into a lifelong career. As a nurse practitioner in Evergreen Health's STI program, Jason says his patients are constantly teaching him how to rise above life's challenges. Along the way, he's learned a lot about strength, grace and the importance of showing up. In the latest Team Evergreen interview, Jason talks about how far HIV care has come and the path that keeps bringing him back to Evergreen.
What do you do as a nurse practitioner?
I see patients who come in for STI-related visits—whether they're having symptoms or just want testing—and people who may have been exposed to HIV. There's medication that patients can take after a potential exposure to reduce their risk of contracting the virus and passing it on to their partners. I also see patients who are interested in starting PrEP, a daily pill that protects against HIV.
You started a high-resolution anoscopy program at Evergreen. Can you tell us a little more about that?
I started the program back in 2012 to bring anal cancer screening, treatment and prevention to Buffalo. Many folks living with HIV have higher risks of anal cancer. As part of standard care, they should have an anoscopy, which is similar to a pap smear and shows if someone has precancerous cells. Before the anoscopy program, nobody in the area offered that procedure; the closest office was in Rochester. So, I went for training and started a program here. Now, we see a couple hundred patients every year for that service, which has hopefully prevented many cases of anal cancer in Western New York.
How long have you been at Evergreen?
That's a fun question! I actually started in 1994 as a volunteer when I needed 15 hours of community service for my high school. A friend of mine said, "Just come with us to Evergreen. It's really fun, and everybody's really nice. We're making condom packs." I was hesitant, but it ended up being something that really spoke to me. The required hours came and went, and I kept volunteering.
And you're still working here today. What's your journey been like?
I got my first job at Evergreen in 1998 as an assistant case manager before moving to the education program. I left in 2002, and then I went back to nursing school and became an RN. After graduating in 2005, I came back to Evergreen for a while and then went to the Nicholas Rango HIV Clinical Scholars Program, which takes folks who are interested in HIV care and places them in a designated AIDS center to train them as specialists. After I graduated in 2009, I worked at ECMC for a while, and then I came back to Evergreen—again.
What keeps you coming back to Evergreen?
I'm kind of a boomerang, but Evergreen has been my home for my entire professional career, ever since high school. I feel very strongly about our mission, and I'm passionate about the causes we support. The people here have always felt like a family to me. I fell in love with the patients, and the work I'm doing feels really important.
What do you love most about your patients?
I love hearing my patients' stories and learning what they have been able to rise above. Some patients use drugs and have reduced the impact of that on their lives. Some patients thought that having HIV was a death sentence. After coming to Evergreen, they've realized it's treatable and are now living healthy lives. My patients have taught me a lot about perseverance, strength and grace. We talk about issues that are central to their lives, and that requires a lot of trust and comfort. It means showing up for each other. I empower them to make positive changes, and they help me be a better person in everything I do.
What's been the most exciting part of your career?
I've been around long enough to see the benefits of treatment for HIV. With new medications, people have gotten a second chance at life and are able to fall in love, get married, have kids and lead happy and productive lives. That's a gift to see.
What makes Evergreen a great company to work for?
It comes down to doing important work that nobody else is doing. We're part of a family, and we're leaving a lasting impact on people. Personally, I'm proud of Evergreen's growth, and I feel like I contributed to that. It's inspiring to see the impact we've had on our patients and know that they're better situated in their lives.
What makes you well-suited for your role?
My own journey has helped me understand that people need somebody to be there and listen. It's personally rewarding to help those that might need someone to care for them when they're not able to care about themselves, or when the people in their lives who did care aren't around anymore.
It sounds like you're always looking out for people. How do you manage to take care of yourself along the way?
For people who are in positions that can be emotionally, physically and mentally tiring, it's about balance. When I get out of work, I try to recharge and reflect on what I do. I spend time with my five-and-a-half-year-old son and my husband. Having a young son has really been fun, because I get to rediscover play, and I've realized how freeing that can be. Apart from that, I enjoy reading.
Is there anything good on your bookshelf right now?
Daring Greatly by Brené Brown. The author does a lot of research on shame and how it disempowers people, and in the book, she talks about being courageous and using our shame to lead. A lot of our patients come in with a sense of shame about their sexuality, drug use or HIV status, and it's really important that we recognize that and learn what we can do to reframe it.
We couldn't agree more, Jason. Thanks for sharing!