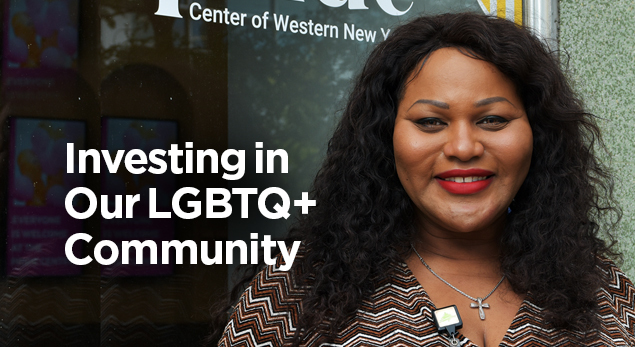 Kelly Craig has been a well-known presence in the LGBTQ+ advocacy space for quite some time, with a long career at Evergreen Health and its affiliates. This year she accepted the executive director position at the Pride Center of Western New York, an Evergreen Health affiliate. As a woman of color and transgender experience, Craig is also a community member who understands and empathizes with the unique hurdles LGBTQ+ youth face. Her motto is to "always invest in young people." To do so, they need resources. The Pride Center's initiatives focus on navigation and linkage to services and programming. Additionally, they connect LGBTQ+ people of all ages to their community. The Pride Center works to educate individuals and make Western New York a healthy place for LGBTQ+ families to live and work.
You have a long history with Evergreen Health. Can you tell me about your experience?
I've been with Evergreen Health and its affiliates for 11 years. I started at [former Evergreen affiliate] Benedict House of Western New York. As the residential services supervisor, I was responsible for supervising the day-to-day of the house. After that, I came into the role of manager of medical grants, where I was responsible for managing the operations and staff under the PrEP Services, hepatitis C linkage care and treatment and RAP – Retention and Adherence Program initiatives. Shortly thereafter, I was promoted to grant quality manager, where I was responsible for providing technical assistance, including auditing all of the grant-funded programs and working under the grant management team. When the Pride Center executive director position became available, I interviewed for it and effective November 1st, I've been in the position.
It looks like you've seen a lot of changes within the organization and for patients.
Yes. Benedict House was initially where people living with HIV lived out the remainder of their lives. At that time, the epidemic was like that, but people are now living. That's one of the fortunate things that Evergreen recognized when Benedict was an affiliate: we saw how housing stability affects health outcomes. It informed a lot of our planning for the Evergreen Lofts. I'm glad to say that we were able to successfully get all of our residents into stable housing before Benedict closed. No one was left homeless. We were even down to the last day, making sure that happened.
What has been your history with the Pride Center?
As grant quality manager, I provided a lot of technical assistance to the Pride Center as it related to their grant funded programs and staff onboarding. Coming into this role, it's kind of a homecoming, where it's not a big to-do. I understand the program in and out, I can tell you the budget amounts and breakdowns in my sleep.
Can you tell me about some of the programming that you're looking forward to with Pride Center?
I feel like I'm in the introduction phase of my work here: getting my bearings and really looking at what we do, how we do it and also looking at the relationships that were established before my arrival. I have spent a lot of time on that. We're also looking at programming for trans youth. Two big focus areas along with the programs that we do every day are looking at housing and mental health, as it relates to our community as a whole that we serve.
We have a health and human services initiative, as well. The initiative aims to address issues related to the key social determinants of health impacting LGBTQ+ communities: economic stability, education, social and community factors, health and health care and neighborhood/environmental factors.
Can you talk a little bit about the unique hurdles that LGBTQ+ people face that heterosexual or cis-gender individuals may not realize?
I get this question all the time, personally and professionally. I knew that there were issues around homelessness, prior to my work with the LGBTQ+ population, but I never really experienced it. Community members will come in and say 'Hey, my sibling or someone may have told my family that I was either HIV positive or I just came out and my parents told me to get out.' We have a responsibility to assist in situations of this type. There are also different hurdles, like employment. There are reasons as to why people can't seek employment, whether it's their past experiences with stigma, homophobia or transphobia. It may be a fear of passing as a certain gender.
Even looking at normalizing healthcare, what does that look like? For example, I've been in transition since I was 17. That's not the case for everyone. When you are a new LGBTQ+ person you may have questions about your body. We have to be sensitive to that. My advice would be to really educate yourself, to have an open mind and to ask questions. My advice to allies is, if you offend someone, say 'I did not know, tell me more' and ask how you can assist.
Prevention is one of our biggest initiatives at the Pride Center, including STI and HIV testing and PrEP linkage. Our linkage and navigation programs assist patients with eliminating barriers that would prevent them from getting medical services and being self-sufficient. Pride's linkage specialists work hand in hand with clients to assist them in achieving self-sufficiency.
How has The Pride Center been engaging with patients with the ongoing COVID-19 situation? How have you pivoted for that?
No day's ever the same, but we have made a commitment to working through the barriers and the pandemic to meet the needs of our patients.
We've really looked at how we do programming, whether we move something to a different location where there's more spacing for social distancing or whether patients pre-register for groups and so on. This also relates to HIV testing. We've been fortunate enough to be able to provide take home HIV tests. We are also working with other community partners as it relates to our target demographics, such as the Ballroom community, communities of color, our transgender and gender non-binary communities, as well.
I want to emphasize that you can always call us or stop by. We wear masks and take your temperature but our doors are always open.
How much, if ever, do you collaborate with MOCHA Buffalo, a supportive service at Evergreen for LGBTQ+ people of color?
That has definitely been a great collaboration, as some of our initiatives are the same. MOCHA and Pride work closely together so that our service delivery is seamless to our communities. For example, if we're at an event with MOCHA, we'll do testing at this one and they'll do testing at the next one. We might be the providing linkage, vice versa and so on.
I saw that you were honored during a Buffalo Bills game this season. What was that like?
I was awarded the Highmark Community Hero Award for the work that the Pride Center does with the community. The Bills also provided our organization with a $2,500 donation. It was my first Bills game and I didn't know anything about football until that day, but it was an amazing experience. It was also rewarding just to be showcased to thousands of people, not just for me, but people who look like me.