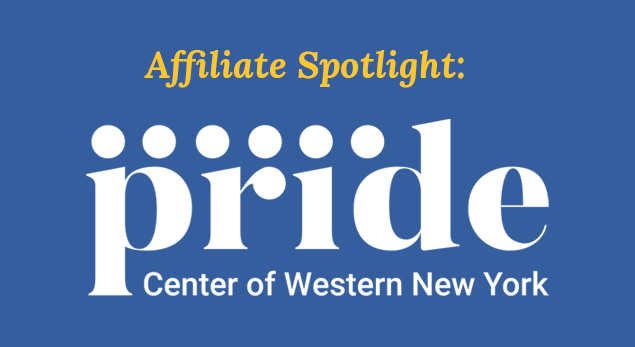 This Pride season, we thought it would be timely to feature The Pride Center of WNY (PCWNY), whose mission is to work with the community to make WNY a safe, healthy and satisfying place for LGBTQ+ people to live, work and establish their families. An affiliate of Evergreen Health, PCWNY provides services and hosts events that support the LGBTQ+ community to make WNY a more equitable place. It's a great resource for the LGBTQ+ community and its allies.
Established in 2001, The Pride Center is a health promotion organization specializing in lesbian, gay, bisexual, transgender and queer (LGBTQ+) health and HIV prevention. Its goal is to promote lifelong health and well-being. Using the core values of courage, empathy, diversity, equity, partnership, community and adaptability, PCWNY makes meaningful and positive change for the community.
What PCWNY is Here For
The PCWNY is here to help LGBTQ+ folks take control of their health so they can look after themselves, as well as their partners, family and friends. Specializing in health issues and the latest information affecting LGBTQ+ people, The Pride Center offers a range of services delivered by caring people who genuinely understand the health issues affecting LGBTQ+ people. These services include: sexual health, alcohol and drugs, safety and inclusion, domestic and family violence, aging, training and education and resources and referrals.
HIV prevention is a core mission for The Pride Center. Advances in HIV testing and treatment mean we can end HIV transmission in New York State, but only if people test often, find a prevention plan that works for them and treat early if they test positive for HIV. The Pride Center works to end the epidemic through education campaigns, operating rapid HIV and STI testing facilities, running sexual health workshops, providing a range of support services, distributing thousands of free condoms every year throughout WNY and providing linkage to PrEP, a daily pill that greatly reduces your risk of becoming HIV positive.
Who PCWNY is Here For
The Pride Center of WNY is an inclusive space, welcoming everyone. They are here for people living with HIV, gay and bisexual+ men, lesbians and same-sex attracted women, transgender and gender non-binary people and LGBTQ+ folks across the spectrum. PCWNY has dedicated services for young gay/bi+ men, LGBTQ+ people of color and older LGBTQ+ individuals.
Additionally, PCWNY's Training & Education team works with employers, service providers, community organizations and schools, colleges and universities to provide knowledge and information to help everyone learn to respect one another, despite their differences. Learning objectives for these trainings may include: defining and discussing LGBTQ+ terminology, recognizing the differences between sex and gender, understanding aspects of identity and reviewing current legislation and policies relevant to LGTBQ+ populations.
Where You Can Find The Pride Center
The Pride Center is located at 278 Delaware Avenue and holds events and services for the LGBTQ+ community and allies, many of which are being conducted by appointment—so give them a call. For more information about PCWNY, visit their website or call them at 716-852-7743. The Pride Center is also active on Instagram and Facebook, so give them a like and follow!
This June, during Buffalo Pride Week, The Pride Center of WNY will be hosting LGBTQ+ events, including the FLEX BBQ on June 4. For more information about this event, as well as other Buffalo Pride Week events, visit the events calendar.