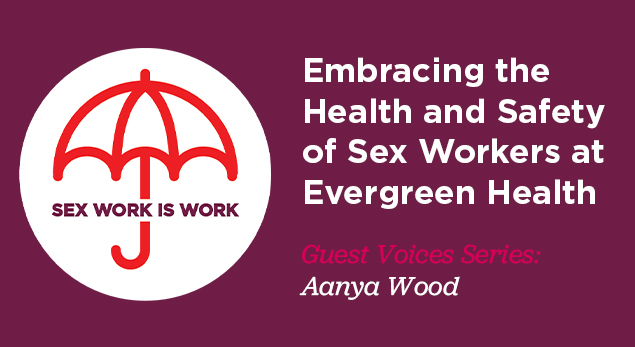 Note from the Editor: Welcome to our new series: Guest Voices! At Evergreen Health, we believe that listening and learning from individuals who are part of a specific community and/or actively work with members of that community is important.
Aanya Wood is a field educator with Evergreen Health where she trains staff and other healthcare providers across Western New York around HIV treatment and prevention, sex worker health, gender-affirming care, harm reduction and hepatitis C. This year she was honored as one of Buffalo Business First's 30 Under 30 Awards.
December 17th is the International Day to End Violence Against Sex Workers (IDEVASW). Founded in 2003 by Annie Sprinkle and the Sex Workers Outreach Project (SWOP) USA, this day was chosen as IDEVASW in memory of the 71 victims of the Green River Killer in Seattle, Washington. Evergreen Health is proud to serve as an advocate and ally for sex workers.
Sex work is an umbrella term for describing the consensual transaction between adults of sex and sexualized services in exchange for money, drugs, housing or other resources. Sex workers are escorts, strippers, professional BDSM (erotic practices involving bondage and other power dynamics) workers and many other professions. This profession has been around for thousands of years and criminalization does not eliminate sex work, it only pushes it underground and stigmatizes it.
People in the sex trades face higher rates of violence and they very rarely get any sort of justice when they experience it. Sex work is not inherently violent or dangerous, but because sex work is often illegal and is heavily stigmatized, workers face serious barriers to accessing services like healthcare. Sex workers are also more impacted by epidemics like HIV and the overdose crisis.
At Evergreen Health, we understand it can be scary to access healthcare when you are afraid of being persecuted or judged. It is our responsibility to make sure that sex workers feel safe, affirmed and empowered as their whole and authentic selves when they access services. We provide judgment-free care to individuals of all lived experiences.
Supporting people in the sex trades is part of Evergreen Health's commitment to harm reduction. We understand that many of our patients who are sex workers are trans people, men who have sex with men and/or from communities of color. Therefore, it is important to us to value the health of all sex workers in Western New York as part of our commitment to LGBTQ+ health, women's health, drug user health and racial equity.
Evergreen Health understands that sex work is real and valid work and we believe that sex workers deserve safety in their workplaces and in their day-to-day lives. We are proud to honor December 17th as the International Day to End Violence Against Sex Workers and we are committed to meeting the health needs of sex workers in our community.