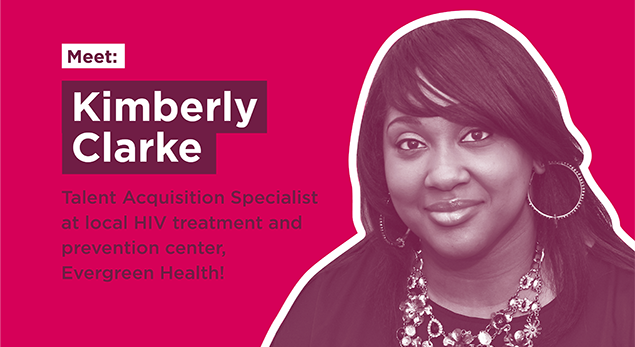 As Evergreen Health continues to grow, Talent Acquisition Specialist Kimberly Clarke has her hands full finding perfect-fit employees for the 20 to 25 positions Evergreen has open at any given time. It's a big job, but one that her business administration education and strong human resources background well prepared her for. In this latest Team Evergreen interview, we chat with Kimberly about Evergreen's good vibes, the nonprofit she founded in the wake of personal hardship and the one throwback television series she never goes a Sunday without.
How does working at Evergreen compare to your previous professional experiences?
What I enjoy most is that there's heart behind the work here. It's fulfilling work. As a member of the human resources team, it's my job to sell the organization to people we are trying to recruit and the people who already work here. And that's a lot easier to do when it's a good organization that you believe in, an organization that you can be proud of. And I can say that I am proud of the work that we do here.
What sold you on Evergreen when you were interviewing for your position?
It was the vibe. It was the feeling that I got from the moment I walked in the door. Everyone was really friendly and very helpful, making sure I knew where I was going. The people that I interviewed with, they gave a really good spiel about the organization and its history, and it just really intrigued me that I could make a contribution to that history.
What is it about the history that resonated with you?
Outside of the services that we provide, it's that, historically, we're a group of hearts. We started out in someone's living room as volunteers. That six people turned into 12 people and that 12 people has grown to be over 400. But there are still enough people here from the beginning that we've maintained our culture of really caring about each other, really being a family and working toward the common goal. The patients always come first, and people come first within this organization. The services are reflective of just how dedicated we are to providing the best patient care possible.
What are some of the challenges you face in your role?
When I first came on board, there was a bit of culture shock because I had come from working in a corporate setting. Granted, HR is never black and white, but the gray area was a lot smaller in that environment. Here, we welcome and accept everyone for who they are, where they are—not only patients but also employees. So, the challenge is always finding the balance of meeting people where they are but still maintaining compliance with government regulations and other HR standards.
If you had to describe Evergreen in one word, which word would you choose?
I want to say kaleidoscopic. And I would say that because there's so many different colors and layers and different things all working together. Looking at the building from the outside, you would not see that. But when you come inside, you look around and get to see people, speak to people and meet them. There's someone different in every corner, but they all come together so beautifully. It's amazing.
What keeps you busy outside of work?
I am the founder and executive director of a nonprofit. I also do HR consulting, and I'm very involved in my community and church.
Tell us more about your nonprofit. What is it called, and what is its mission?
Cameron's Light Foundation is the nonprofit I started, and its mission is to provide advocacy, support and resources to families with premature and NICU babies and those experiencing infant loss. It started because I went through it myself, and I'd like for no other family to have to do that. I actually partner with other organizations and with the Oishei Foundation to bring that information and those resources to one place for parents of these babies. We are there to remind them that they are their child's advocate—that it's okay to ask questions, and that it's also okay to run errands and not feel guilty about it while your baby is in the hospital. It's okay to give yourself some "me" time while your child is in an incubator, and you can't touch him or her. Things that no one really thinks about but that happen all around us. We also want families to know that they're not alone. Other people have gone through it. We've lived through it, and whether it works out for the best or ends in the loss of your baby, you will be okay.
What an admirable cause. How do you make time for yourself in the midst of everything you do for others?
When I wake up, I always have some quiet time. I'll meditate, drink my tea. I am a green tea drinker. That gets me ready for the day.
If you had a full day to yourself without work, errands or responsibilities, what would you do to get away from it all?
I would definitely go shopping followed by wine and dessert, and then I'd go home and binge watch TV. Quite often, when I have a day off, I'll get in the car, and I'll drive. I might go across the border, or I'll go up to Syracuse to shop. I might stop in Geneva at one of the wineries or something on the way.
What's your binge watching go-to?
"The Golden Girls." I watch it every Sunday.
Well, that begs the question: who is your favorite Golden Girl?
I just had this conversation! I had to walk myself through it that time, but now I'm prepared. Definitely Dorothy.
Wise choice, Kimberly. Thank you for all that you do for Evergreen and the local community.