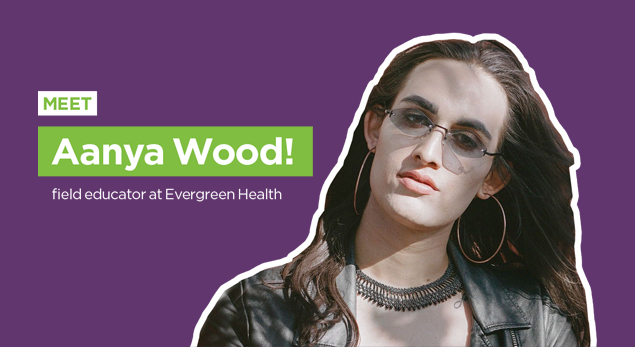 Field educator, Aanya Wood is dedicated to our transgender community. She trains staff and other healthcare providers across WNY around HIV treatment and prevention, sex worker health, gender-affirming care, harm reduction and hepatitis C. In her previous role as linkage specialist, she saw patients every day, helping them with case management and linking them to services like Medicaid, transportation, insurance, PrEP and gender-affirming surgery. She helped organize Buffalo Pride Week's Virtual Vogue Night and even DJ-ed the event. With a lived experience of being transgender, Aanya is an invaluable resource. When Aanya is relaxing outside of work, she enjoys cooking and cleaning. She also makes a mean curry chicken.
In your previous role as a linkage specialist, can you describe your work?
My job was a mix of outreach, clinical case management and health promotion for trans people that may or may not already be patients at Evergreen. My program was new and involved work specifically for trans people living with or at risk of HIV, predominantly from communities of color. I also did medical case management, peer services and linkage to testing for STIs, HIV and hep C with my team for all of our trans patients. I linked people to different services like PrEP and substance use counseling and outreach in the community (when there's not a global pandemic).
You have experience working with patients in marginalized groups in Canada, don't you?
Yeah. I'm originally from Western New York. I moved to Toronto when I was 17 to go to school. I lived there until the fall of 2019. After I finished my undergrad. I started to do harm reduction work with sex workers and people who use drugs. I eventually started my previous position, which was doing HIV, hepatitis C and harm reduction work in the federal prison system. I was working with people who have HIV, hep C and trans people doing health promotion and health equity work with the goal of viral suppression. A lot of the work I was doing was developing a nation-wide syringe exchange in the prison system.
What drew you to this kind of work: helping trans people, people who use drugs and those in the prison system?
Well, I myself am trans and have a lot of friends and family who are living with HIV, so it hits close to home. It just made sense to do medical care. My undergrad was in geography but I did a lot of stuff related to racism, gender studies and disability studies.
Have you been able to do much outreach in the current climate?
We've done a continuation of the vogue night series. The idea was a virtual vogue night, which was on Friday [of Pride Week]. It was a pretty big success. There were about 400 people watching. A lot of Evergreen staff joined, which was great. People from the ballroom community in Western New York, all over New York State and some friends from Canada joined. That's a big part of what I am doing—community events and tabling at fairs, like Pride.
Were you part of the LGBTQ+ community while you were in Canada?
While I was there, I started working as a DJ. I played Pride every year and did lots of festivals for the community.
What made you want to apply to work for Evergreen?
I started as a patient at Evergreen. When I first moved back to Western New York, I needed somewhere I could get my hormones. I knew Evergreen started as an AIDS service organization and I was looking for something that was in health and human services for people with HIV or people who use drugs. I had a couple of interviews then finally got my position.
What's your favorite thing about working for Evergreen so far?
I like the freedom in my position, that I can incorporate culture. I was able to develop and support a virtual vogue night. There's an openness to ideas at Evergreen and I'm able to incorporate a lot of different parts of my life that come from outside of work. It's seen as valuable and important to the communities we serve. HIV isn't just the healthcare aspect but also community development and giving people the space to be themselves.
Do you think it's easier for your patients to talk to you because of your lived experience of being transgender?
Yeah, I think so. But my coworkers who aren't trans are also amazing. They have develop some great relationships with patients, too.
When you're not helping other people, what do you do to take care of yourself?
That is a great question! I garden a lot. I cook a lot. My friend Alicia calls me a housewife because I cook for other people and do a lot of traditionally housewife type things like cooking and cleaning. I'm a homebody.
Have the staying at home orders with the pandemic been an easy transition for you then?
Oh my god, yeah. Absolutely. I don't really have many complaints about social distancing these days.
This year has been obviously really bizarre, awful and disorienting in so many different ways, but in a lot of ways I feel like it's brought me much closer to a lot of my friends and family. I'm looking forward to being able to hug people again. It's such a simple thing but I think many of us are missing simple contact with each other!
Thanks, Aanya, for being an advocate and sharing your story!