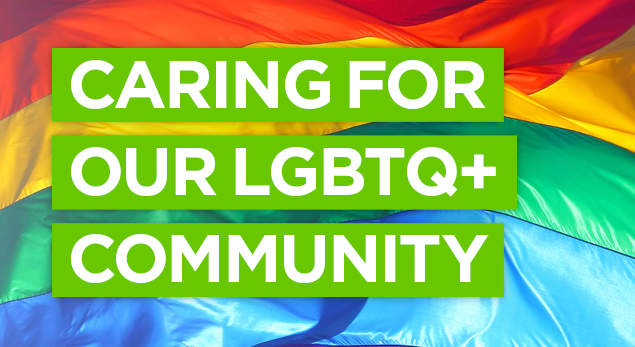 Evergreen was started by a group of LGBTQ+ folks and allies in response to the AIDS crisis, which was disproportionately affecting queer people. Our mission has always remained the same: to provide affordable access to healthcare that is compassionate, respectful and judgement-free; that honors diversity and experience; and that empowers patients to live a healthier life.
Our medical services, including primary and specialty care, are safe and affirming spaces to receive care. We are sensitive to the needs and health concerns of the lesbian, gay, bisexual and transgender community. We offer a walk-in sexual health clinic that offers STI, HIV and hepatitis C testing, PrEP for HIV prevention, sensitive gynecologic care and access to clean syringes and injection works. In fact, we specialize in transgender health.
We are proud to offer respectful transgender and gender expansive care for individuals. We offer name and gender marker change assistance, gender-affirming hormone therapy and medical case management. Linkage to the Pride Center of WNY for community support can also be beneficial to transgender and gender non-binary patients; we are happy to provide connection.
The harm reduction model, meaning that we don't force patients to do or be anything in order to come to Evergreen, has been especially helpful for our drug user services. As many of us are aware, recreational drugs and party and play drugs have been used in the LGBTQ+ community for quite some time. We are not here to tell you what you can or cannot do. We are here to provide resources and education to help you live a healthier life and reduce your risk of overdose or illness.
In addition to being a non-judgmental space, the pharmacy at Evergreen specializes in pharmaceuticals that often directly impact LGBTQ+ patients. We specialize in HIV medication, including treatment and prevention drugs like PrEP. We are happy to offer free home delivery and 24-hour emergency access to a pharmacist.
Our commitment to our mission of accessible healthcare means that we have unparalleled inclusive medical, behavioral and supportive services. At Evergreen, you can be who you are and feel proud. We will always honor your life experience and never to ask you to do or be anything you are not. We are grateful to be a trusted resource for the LGBTQ+ community for nearly 40 years!