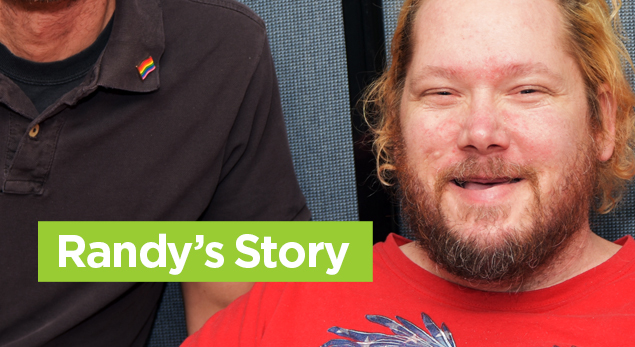 Randy Carson first heard about Evergreen Health, then known as AIDS Community Services, because of its testing services. His friend was HIV positive and Randy knew he was at risk, so he wanted to get tested. Once he met with a counselor, Randy became aware of the primary and specialty care and supportive services Evergreen provides. He became a regular at the THRIVE Wellness Center, playing board games with the staff and attending cooking demonstrations.
Since then, Randy has been diagnosed with Non-Hodgkin's Lymphoma and Diabetes. The THRIVE Wellness Center helps keep him on track. He credits James Thompson, health & wellness program manager, for his recent health wins.
"James teaches me about the do not's and the do's. I've been trying my best to follow them," said Randy. For example, certain foods make his sugar go up because there is too much starch. He has been learning how to make better choices.
"Another thing you've been doing is learning how to read nutrition labels," said James.
"Yeah," Randy responded. "I love doing that because I learn a lot reading at the same time, because I'm not really a good reader and he helps me with that, as well, by helping me read these packages. It helps me read more. Like I said, I enjoy his company."
Having a friend to talk to, like James, is incredibly beneficial. "It made it a lot more easier when James comes over 'cause I can lose stress by talking with him," Randy continues. "I don't have no one else to talk to and when James is over, he teaches me. So, he's not just a diabetes counselor for me. He's an all counselor for me. When I need it the most, he's there. With him, it's a different kind of counseling." Because James is a good listener and offers help and support, Randy trusts him and takes his suggestions.
James has been visiting Randy at his home every week for three months where they have individual diabetes counseling. They work on a personalized course of action, instead of a standard lesson plan. By identifying areas that he wants changes and creating a plan to reach his goals, Randy is more likely to follow through with the course of action and feels more accomplished when he succeeds.
Recently, Randy has lost close to twenty pounds, his sugar levels are under control and another favorite staff member, Laura, has even noticed his weight loss. "I'm grateful I'm starting to lose weight. It's not where I want to be but it's a starter. Matter of fact, Laura noticed that I lost a lot of weight. 'Cause she sees me a lot and she knows me really well." Randy continues that her noticing his weight loss made him feel good about himself.
Randy tries to get as many of his services as possible at Evergreen. His care coordinator has been noticeably beneficial to him by speaking with his landlord regarding a recent misunderstanding that could have led to eviction. She has even gone to appointments with him. "I couple of months ago I ended up hurting my head. I got a concussion and I went to a follow up. She met me there and went with me," continued Randy. It's especially helpful that she goes to new appointments with him where he may not know what to expect.
Randy is grateful for the help that Evergreen Health has given him. Evergreen treats all aspects of Randy's health and well-being, from primary and specialty healthcare, to counseling, housing assistance and nutrition. He tells James, "If it wasn't for you, I wouldn't be here right now talking about it."