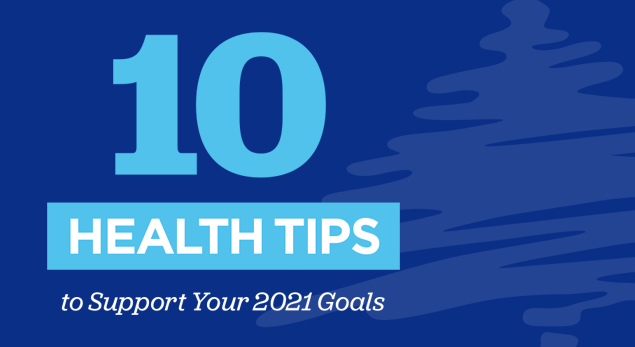 It's a new year and for you, that may mean taking control of your health and creating some goals that can create meaningful change. At Evergreen, we are all about our patients creating goals themselves. Our programs and services have been tailor-made to remove boundaries in accessing healthcare and supporting holistic health. To that end, we have complied a list of 10 tips for you to support your 2021 goals. Let's go!
10. Make an appointment with your primary care provider
If you haven't seen your primary care provider in a while or would like to establish a primary care provider, give us a call at 716.847.2441 and we can set you up with an appointment. Your primary care appointment is a great starting place to address any concerns you may have about your health.
9. Have your prescription delivered from the Evergreen Pharmacy
The Evergreen Pharmacy offers free home delivery, including same-day delivery when needed. Having your prescriptions delivered is an easy way to stay on top of your healthcare goals.
8. Schedule regular STI check-ups in your calendar
If you are sexually active with other individuals, getting tested for sexually transmitted infections (also known as STIs and STDs) and HIV is an essential part of caring for your health. It keeps both you and your community safe and reduces the spread of STIs and HIV. Evergreen offers both walk-in and by appointment STI and HIV tests!
7. Explore the supportive services Evergreen has to offer
At Evergreen, we have developed services that are designed to assist our community members in living their healthiest lives. The THRIVE wellness program helps those with chronic illnesses manage their conditions with emotional, nutritional, physical and social -based programs like art therapy, guided imagery, smoking cessation group, diabetes education group, yoga, acupuncture therapy, healthy lunches and more. Not only that, but Evergreen offers assistance with nutrition, transportation and housing.
6. Talk with your care coordination out programs that help you
Care coordinators are an invaluable resource because they help you navigate healthcare and services to help you achieve your goals. They understand how overwhelming the healthcare system can be and want to help you with your 2021 goals. They can assist in finding you a doctor or specialist, advocate for you, help you understand or remember confusing information, schedule appointments and tests, get transitional care after hospital discharge, link you to mental health or substance use programs and give you transportation resources, to name a few! Care coordinators can help you get set up with mental health counseling services in individual and group settings, if that's something you decide to pursue.
5. Find out what insurance works best for you at our financial counseling center
Health insurance can be a really difficult system to navigate. That's why we have made it easier by offering the financial counseling center, which helps to remove any financial barriers that may prevent you from receiving the care you need. We even provide ongoing support and education so that you can make the best decisions to meet your health goals.
4. See what our Evergreen affiliates, The Pride Center and Community Access Services have to offer
The Pride Center of WNY is an inclusive space for the LGBTQ+ community offering programming and resources, like STI testing. Their mission is to work with the community to make Western New York a safe, healthy and satisfying place for LGBTQ+ people to live, work and establish their families. Community Access Services (CAS) serves communities of color in Buffalo and Erie county by offering programs and services to help you reach your healthcare goals. They are committed to addressing the epidemic of HIV and other diseases that challenge the welfare of urban communities and offer STI and HIV testing, health insurance linkage and community empowering events.
3. Learn how to administer Naloxone
Carrying Naloxone, also known as Narcan, and administering it when appropriate, can save a life. Visit Evergreen's syringe exchange program to become educated on how to prevent an overdose. We have clean needles and works, educational material and Naloxone for our community.
2. Stock up on free condoms
Evergreen, The Pride Center and CAS all have free condoms for anyone who would like them. You do not have to be a patient or have an appointment. Using condoms is one of the best ways to prevent the spread of STIs and HIV.
1. Set up your patient portal
Evergreen's patient portal is a great resource for patients who want to take control of their healthcare on their own schedule! Patients are asked during their primary or specialty care appointment if they would like to participate in the patient portal and given access. There, you can view your medical chart, see your test results, request prescriptions and more. The patient portal can be accessed any time, day or night. If you have questions about the patient portal, feel free to call us and ask for primary and specialty care.